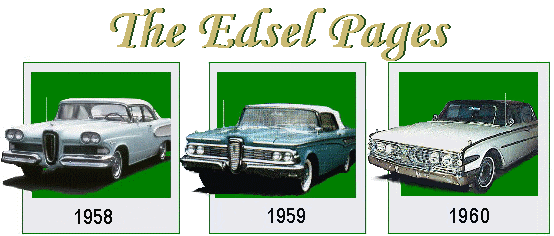 Edsels For Sale (Pre-2009)
---
When Edsel owners have to part with their cars, they generally want them to go
to a good home. And who better to take care of their Edsel than another Edsel
enthusist! Here's a place to post your Edsel for sale, free of charge, with a
better chance that in it's next home it'll be treated like the classic car it is.

All prices are in US dollars unless otherwise stated.

Clicking on this icon will display a picture of the Edsel, if there is one available. "OBO" next to a price indicates the seller will consider reasonable offers.
Parts and Parts Cars are posted to the Edsel Parts Available page.
To submit your Edsel ad, please review the Submissions Guidelines page.
SCAM ALERT
Sellers: Please be aware of a known check cashing scam that is frequently perpetrated on classic car sales! Visit the Scam Alert Page for details.

For a list of commonly used phrases that may help identify Scam Email, click here.
The administration and supporting services of Edsel.com are not responsible for any misrepresentations or inaccuracies in the posted ads, and do not in any way endorse or validate the reputation of the seller. Your Edsel webmaster has reprinted quotes, prices and descriptions from electronic mail received. The buyer is strongly encouraged to personally insure that the condition of the vehicle is as stated, prior to purchase.

---
<!- £ GBP English Pounds (Currency converter at www.astroline.com/security/conversion.html --> 308: (1958 Pacer, 2-door hardtop, Wisconsin. $10,900) Removed on February 16, 2009

307: Posted on December 27, 2008

Year: 1958

Great restoration project. This Edsel has all its original trim and has never been damaged. Does have rusted floor panels, however all body panels have just have surface rust. Original motor and original 3-speed transmission. Will deliver. Edsel is in Dallas/Fort Worth.

Contact 817-239-5754 or 214-803-9905, or E-mail flyingspanard@att.net

Model:
Pacer


Body Style:
4-door sedan


VIN:



Location:
Texas


Price: ?

306: (1959 Ranger, 4-door sedan, California, $3,600) Removed on March 7, 2009
305: (1958 Ranger, 4-door sedan, Kansas, Best Offer) Removed on December 7, 2008
304: (1958 Citation, convertible, Massachusetts, $47,900) Posted November 22, 2008, Removed August 1, 2009
303: (1959 Ranger 4-door sedan, Wisconsin, $6,900) Removed on May 30, 2009
302: Posted on September 19, 2008

Year: 1958

Good mechanical condition. The interior is all original. Fresh paint job to original colors. Factory-installed equipment and options including: Teletouch automatic push-button transmission shift, Town and Country push-button radio, built-in compass on the dash, twin antennas on rear fenders, spinner hubcaps, backup lights, twin hooded Edsel mirrors.
64,505 miles, E475 engine, 410 cubic inch V-8.
Gold Metallic and Frost White two-tone exterior. Assembled in Somerville, MA. One of 2,532 produced.

Call Ken at 440-248-0814 for more information.

Model:
Citation


Body Style:
2-door hardtop


VIN:
X8SW708598
63B XEE L 20J 4 A


Location:
Ohio


Price: $10,500

301: Posted on August 29, 2008

Year: 1959

Rust free Florida car. Restoration 60% complete
361 - 4V (303 Factory Horsepower), 3-speed Automatic Transmission, Power Steering, Power Brakes, Factory Air Conditioning, Town & Country Radio. Engine rebuilt .030 over. New Edelbrock 650 cfm carb, Edelbrock dressup rocker covers & air cleaner, new radiator, new transmission cooler, new starter, rebuilt generator, power steering cylinder rebuilt, power steering pump rebuilt, front disk brake conversion kit from MP Brakes installed with power booster. New front suspension (ball joints, tie rod ends, all bushings, shocks and coil springs), new rear springs, coil-over shocks. Gas tank reconditioned, and all exterior chrome was replated ($5000.00).

Over $15,000 currently invested. Needs paint and interior to complete. Sacrifice for $8500.00 or best offer.

Contact Al Simmons at 905-263-4211 in Solina, Ontario, Canada for more details.

Model:
Villager


Body Style:
6-passenger wagon


VIN:
W9UT725509


Location:
Ontario, Canada


Price: $8,500 OBO

300: Posted on August 13, 2008

Year: 1958

This car is in nice original condition, with 65,000 miles. The paint is original and has a couple of thin spots that I will take care of. Nice chrome, new original front seat by SMS, new dash by "Just Dashes", nice interior.
Options include Town & Country radio, tachometer, dress-up group, tinted glass, and skirts.
For more info, please call Allen at 401-568-7642, days, between 9 to 5 Eastern.

(Please see my other ad, #299, below.)

Model:
Citation


Body Style:
2-door hardtop


VIN:
X8JW700984


Location:
Rhode Island


Price: $8,500

299: Posted on August 13, 2008

Year: 1958

Sharp black and red hardtop. Can be driven anywhere. Runs excellent. New padded dash and carpet. Factory accessories include tachometer, Town & Country radio, power antenna, spinner caps, guards, hooded mirror.

This car was restored in 1987, by myself. Can deliver within 800 miles.
For more info please call Allen at 401-568-7642 between 9AM-5PM Eastern.

(Please see my other ad, #300, above.)

Model:
Citation


Body Style:
2-door hardtop


VIN:
X8WW704305


Location:
Rhode Island


Price: $11,000

298: Posted on August 2, 2008

Year: 1958

This Edsel would most likely grade out as a 3 (on Old Car Price Guide listings). Owner has lost storage and vehicle needs to have a good home. Vehicle has not been driven for approximately 3 years - suggest a complete brake job. Driver side wing glass cracked, needs exhaust manifold gasket and other minor details to make a very nice completion of restoration. Body, paint and chrome are in good condition and all items of vehicle are there.

Contact Ron at hartisi@juno.com

Model:
Ranger


Body Style:
4-door hardtop


VIN:
W8UH720982


Location:
Oklahoma


Price: $5,500

297: Posted on July 19, 2008

Year: 1958

Factory Spring Green exterior, light green vinyl and with darker green cloth interior, 8 cylinders, automatic transmission. Extra features such as whitewall tires, full wheel cover hubcaps, and front and rear bumper guards. Historical licence plates. Full maintenance history available.

Highlights: good engine, installed transmission shift controls to original operating set-up, replaced carburetor and water pump, and serviced gas tank and transmission. This mature beauty is an unrestored original that has been lovingly stored and maintained for the last few years in Texas, but it needs to be with someone who loves Edsels and can restore this one expertly. Not for sale for parts. It purrs when it runs. No body damage and will look like new with fresh paint. There is one rust spot near rear left passenger's window and some rust on floor. Photos provided.

Located in Grapevine, which is in between Dallas and Forth Worth. Will take cash in person or PayPal only. Email lzricha@yahoo.com
Serious buyers only, please.

Model:
Corsair


Body Style:
2-door hardtop


VIN:



Location:
Texas


Price: $5,000 OBO

296: Posted on July 19, 2008

Year: 1959

TWO Edsels, both 1959 4-door sedans:

CORSAIR - Runs, all parts are there. Automatic, 332 engine, green with white stripe. All body panels are included for rust areas except the trunk lid. I have the title.

RANGER - No carburetor, 90% there but needs restoration and new panels. Automatic, 292 engine, door glass is broken. I have the title.

Both cars for $2100 total. Contact Dave Whittaker in Amissville, Virginia (60 miles SW of Washington, DC), at 540-937-3663 (anytime - leave a message), or email either Dave@UnicornWinery.com or UnicornWine@aol.com.

Model:
Ranger & Corsair


Body Style:
4-door sedans


VIN:
B9US702415
C9UF713490


Location:
Virginia


Price: $2,100 for BOTH

295: Posted on July 13, 2008

Year: 1958

It has been restored by the car's owner (my father-in-law) about eight years ago. He has driven it about one thousand miles. The front seat is electric but not original. The interior was redone but is starting to show some deterioration. The chrome and paint are in good shape. There is some rust on the front of the hood, not much. The engine has had a valve job and the brakes were replaced. It has an electric fuel pump and a new Edelbrock carburetor. The car is registered and runs good. It is complete except it has some non-original parts.

My father in law's name is Ray McGillick, and he can be contacted at (760)868-6144 for more information during the day and evening. He does not have e-mail. The car is located in Phelan, California (southern CA, high desert).

Model:
Ranger


Body Style:
2-door sedan


VIN:
W8RC704199
64A EEE A 31K 4 A


Location:
California


Price: $3,500

294: Posted on July 12, 2008

Year: 1959

Runs good but not driveable right now (new gas tank is ready to install). Body is in good shape, needs glass in a couple places. This is a good restorable car. Cannot finish now due to illness.

Located in Montclair, Ca. $2,500.00. Pictures available on request.
Respond to (909) 624-8367 or (909) 538-6254 or email ink_n_curvz@yahoo.com

Model:
Ranger


Body Style:
4-door sedan


VIN:
C9UF700081


Location:
California


Price: $2,500

293: Posted on July 12, 2008

Year: 1960

Six cylinder engine, 3-speed transmission. Has rust in floor pans and on quarters

$2500.00 firm. Located in southeast Missouri. Contact Don at 573-344-0992.

Model:
Ranger


Body Style:
2-door sedan


VIN:



Location:
Missouri


Price: $2,500

292: Updated on November 9, 2008 (Posted on July 10, 2008)

Year: 1958


Must sell this very sharp Edsel, black with red roof and scallop which recently completed a professional restoration (see photos here). 76,000 original miles, new paint, new upholstery, headliner, engine rebuild, spinner wheel covers - the car's like new. It does need a fuel pump, which shouldn't be difficult, but I need to sell her soon. No payment plans, please.

Contact Kevin in Cranston, Rhode Island, at 401-946-6581 for more info. Thanks!

Model:
Ranger


Body Style:
2-door hardtop


VIN:
W8UG722964
63A RAA N 28K 4 A


Location:
Rhode Island


Price: $7,000

291: Posted on June 20, 2008

Year: 1959

This Edsel is a 6-cylinder automatic and is not running at present. It is 99% complete and needs restoration, including floor pans in front and interior renew. Glass is good except for a cracked windshield. Asking price is US$750.

Located in Saskatoon, SK. Canada. Contact Tom Grummett at 480-802-0981, <!- formerly 306-934-4695 --> or email forsale@edsel.com. Please include "Edsel Ad 291" in the subject line. <!- wtgrummett shaw.ca -->

Model:
Ranger


Body Style:
4-door sedan


VIN:
058DK59572752


Location:
Saskatchewan, Canada


Price: $750

290: (1958 Pacer, 4-door hardtop, Maryland, $15,000 OBO) Removed on August 4, 2008
289: Posted on June 9, 2008

Year: 1959

For Sale or Trade
1959 Edsel:This was purchased by my late husband who was restoring it. He replaced and rebuilt it mechanically and it was running when he passed. He was in the process of repainting it so it has been stripped down. He had sanded and primed it but that was as far as he got. I have kept it garaged and covered as best I can but I think would need to be resanded and primed again. I have no battery for it but I do have all the parts and hardware he removed. I need the space in my shop so I am willing to part with it.
It will have to be trucked out. Although he invested a lot in it, I realize that to someone else the value is not so great. So if interested make an offer and I will consider it. I would like to at least get the initial cost, before work was done, of the car back, which was $3000, but will consider any offer.

I live outside Locust Grove. Please email forsale@edsel.com with "Ad 289" in the subject line.

Model:
Ranger


Body Style:
4-door sedan


VIN:
C9UF731662


Location:
Oklahoma


Price: $3,000 OBO

288: Posted on May 19, 2008

Year: 1959

Original motor and transmission. 292 Y-block V-8, automatic, air, power steering. Good grille, tail lights, rear bumper, front bumper has 2 slight dents, body is rough.

Located near Tuscaloosa, Alabama. Please call 205-792-4228 for more information.
-jenniferb@srcocpa.com

Model:
Ranger


Body Style:
4-door sedan


VIN:
C9UF720094


Location:
Alabama


Price: $1,200

287: Posted on May 18, 2008

Year: 1958

For restoration or parts. Missing: hood, grille (horsecollar and both front grilles), most of the pulleys and accessories (still has power steering pump and a generator), windsheild and wipers, radio, rear bumper, gas tank, spare tire, hubcaps, three out of four taillight lenses, and back up lights. Damaged: both front fenders (rusty and dented), radiator (will not hold water), motor and trans (hasn't run since 1970), driver's side window (cracked), passenger's side front window (also cracked), rear left door (severely dented), minor dents on both passenger doors, broken left trunk hinge. Interior is mostly intact, but needs reupholstery.
There is minor rust in the floorboards and trunk floor. Major rust in spare tire well. The car could be a great rat rod project or restored. Equipped with power brakes and steering, also air conditioning (but I sold the A/C condensor, evaporator/heater core plenum box, blower motor unit, sight glass and hoses, climate control servo motor, along with the distributor cap and wires, washer bottle holder, instrument cluster, and voltage regulator.) Originally was a Teletouch, but when I got it, it was column shift automatic. I'm taking all the column shift stuff, so it will have a Tele-touch steering column in it's place.

The VIN says it's a 361, but the valve covers say "FORD" in big letters, so they aren't the original valve covers or maybe it's not the original motor. Frame is in good condition. Three out of four doors are restorable. There is no title, but it hasn't been registered since 1970, so Broadway title can get you one for about $300.

I'm asking $500 for the whole car. I'll take $300 without the motor or transmission, but Teletouch column installed. It has decent tires that hold air and can be rolled around easily.
Email me at boomer__18@yahoo.com or call me at (847)401-6662. Car is located in Wadsworth, IL 60083

Model:
Pacer


Body Style:
4-door sedan


VIN:
W8UF726383


Location:
Illinois


Price: $500

286: Posted on April 23, 2008

Year: 1959

Rust-free, V8, automatic, power steering. Not running.

Call 507-360-9172 or email md_boltjes@hotmail.com

Model:
Ranger


Body Style:
4-door sedan


VIN:



Location:
Minnesota


Price: $750

285: (1958 Ranger, 4-door sedan, Pennsylvania, $3,000) Removed on April 13, 2008
284: Posted on April 12, 2008

Year: 1958

This car is in great shape. The interior is in outstanding condition. The exterior is good, the chrome looks great, the paint is in good condition. The car runs excellent. It has 71000 miles and new tires.

Please contact me at 916-533-5859 or at walter.glasstech@gmail.com

Model:
Ranger


Body Style:
4-door sedan


VIN:



Location:
California


Price: $6,500 OBO

283: Posted on March 14, 2008

Year: 1959

Looking for a great looking Edsel? Well, here it is! This is a 1959 Edsel Corsair 4-door sedan in excellent condition. All numbers match with the Express V8 and Mile-o-matic 2-speed. Color is Jadeglint Majestic Green and white flares. The interior is light green and white with dark green carpet. All seats and carpet are in perfect condition with no scratches or tears. The gauges all work perfectly and are still in great shape. This car even has the original radio (it doesn't work but it is there).

I recently had the transmission completely rebuilt along with the generator and carburetor. My latest addition has been dual exhaust, which sounds great on the car. I have looked and looked you will not find another car like this in this kind of condition. I just recently purchased another classic and have no room for it in the garage.

Located in Picayune, Mississippi. Contact Mike Thigpen at 601-347-3642, or email scottpenn2001@yahoo.com

Model:
Corsair


Body Style:
4-door sedan


VIN:
B9US726446


Location:
Mississippi


Price: $8,000

282: (1958 Pacer 2-door hardtop, Texas, $18,000) Removed on July 7, 2008
281: Posted on March 2, 2008

Year: 1959

6 cylinder, manual, 130,000 miles.
Exterior is aqua/white and is very straight and clean. Recently professionally detailed.
Interior is tan/white in good condition, no rips. Original radio (non-functioning).
Small cracks on drivers front window and passenger rear window.
Starts right up and runs/drives well.
Car is in Gibralter, Michigan (~20mi south of Detroit).

Contact information:
Scott McCall
463 Emmons
Wyandotte, MI 48192
734-284-8067 or 734-731-0651
smccall@wyan.org

Model:
Ranger


Body Style:
2-door sedan


VIN:
A9UF700760


Location:
Michigan


Price: $7,500

280: (1959 Villager station wagon, Washington, $3,000) Removed on May 4, 2008
279: (1958 Pacer 2-door hardtop, Wisconsin, $10,900) Removed on March 7, 2008
278: Posted on January 26, 2008

Year: 1959

I am the third owner. Car originally came out of Arizona. Current location is Evans, GA. Title in hand. Additional pics available.

This is a great combination of properly maintained and refurbished-as-necessary original. It has 93,000 miles. The wagon was professionally repainted 10 years ago, done to high quality standard. No overspray anywhere. The chrome is in excellent condition. All stainless steel was polished. The rear bumper has been rechromed, along with the piece under the real tailgate. The front grill pickle was hand-painted to the correct color.

The interior is in excellent condition. The original ribbed headliner is perfect. All three seats are original material and look outstanding. The first two rows of seats still have the vintage plastic coverings. The original red and black rubber floor mat is there as well. All the stainless and chrome piece of the dash are beautiful. The door panels are original and windlace was replaced.

The engine compartment was detailed for show. This wagon is powered by the 361 engine. No power steering, no power brakes. 3-speed manual transmission (3 on the tree). Previous owner at 89000 miles rebuilt the engine in 2003. All engine related parts were rebuilt, including the generator, water pump, carb. New plugs, wires, hoses belts, etc. The exhaust in a dual system with mild glass packs that sound great. The Villager rides on new tires with polished American mags. The rear differential has new fluids and was resealed. The brakes have been completely redone.

There is a nice set of gauges installed under the dash for oil, water, and volts. A tach was also installed on the steering column. These really give a nice nostalgic appearance. The audio system is a top of the line Custom Auto Sound system. No cutting of the dash for this install. All windows were tinted, primarily for looks but also to protect the original interior.

The wagon drives really well, handles very well and is blast to drive and show. Right now the car needs nothing. This is one of the best wagons I have owned. However, my wife and I are ready to begin building a home and I need to raise some capital. I will keep my 59 sedan since this was my very first Edsel.

Please contact me at donaldlav@yahoo.com

Model:
Villager


Body Style:
9-passenger wagon


VIN:



Location:
Georgia


Price: $16,500

277: Posted on January 13, 2008

Year: 1959s (2)

My father purchased both cars approximately 30 years ago. Both cars are aqua/blue and never restored. The 4-door was driven and parked in a hay barn. The car is complete, all glass is in good shape except for a crack in drivers window. Grill, head and tail light assembly in good shape. Some rust on rocker panels. 55,141 miles.
The 2 door is complete but does not run. Can be used for parts. It has 76,132 miles.

I can be reached at jhackett3@rochester.rr.com

Located in Upstate New York. Price: $1,200 OBO (2 cars, 1 price)

Model:
Rangers


Body Style:
2-dr,4-dr hardtops


VIN:
W9UG702088
C9UH704660


Location:
New York


Price: $1,200 (Both)

276: Updated on August 13, 2008 (Posted on January 8, 2008)

Year: 1959


Bought from a member of Edsel club about one year ago. The 292 V8 was rebuilt just prior to my purchasing it. Two-speed transmission just rebuilt with receipts. Tank drained and cleaned, radiator done, brakes done. Jet Stream Blue with White. 87,000 miles. Runs and drives great.
Was repainted several years ago and some bubbles are starting to show through near the rockers. New carpet. Front seat has tear. Overall a very great driver.

Located in Southern California. For more info please call Tony at 310-748-1042. <!- Docante aol com -->

Model:
Ranger


Body Style:
4-door sedan


VIN:
C9UF721732


Location:
California


Price: $3,500

275: (1958 Villager wagon, California, $1000) Removed on April 12, 2008
---