This page is a forum for people with Edsel parts available for sale or trade. Here you can find listings for parts as well as parts cars, to help you keep your Edsel on the road.

For other Edsel literature and memorabilia, visit the Edsel Items For Sale page.

To submit your Edsel ad, please review the Submissions Guidelines page.

Ads remain posted until the item is reported sold or for three years, whichever comes first.

The administration and supporting services of Edsel.com are not responsible for any misrepresentations or inaccuracies in the posted ads, and do not in any way endorse or validate the reputation of the seller. Your Edsel webmaster has reprinted quotes, prices and descriptions from electronic mail received. The buyer is strongly encouraged to personally insure that the condition of the vehicle or part is as stated, prior to purchase.

---
Posted: June 11, 2017
For Sale: Edsel Wheelcovers - Complete Set
When I got married and had to sell my 1958 Pacer in 1971, for some reason I couldn't locate the rims..
So all these years later I now have these for sale. They are located in Mississauga, Ontario, near Toronto.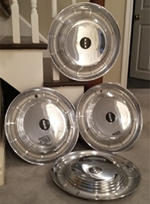 (Click on photo for a larger view)
I would like $200 for them. They are, of course, used but in what I would call pretty fair shape.
One of them, the one on the floor, has an unusual flaw; a ding from the inside. If I ever knew how it got there, I have long forgotten. It is not a major mark. I can easily send better closeups should you be interested.
Contact R. Moreau via text to (416)554-9775, or email
---
Posted: October 9, 2016
My dad bought new a white 1959 Edsel Ranger. He changed the Wheel Covers the first week.
I've had them since new. Accepting any reasonable offer.
I live in Oakbrook Terrace, Du Page County, Illinois (west of Chicago). Please call for more information, 630-664-5542
---
Posted: September 18, 2016
I have the following original parts for a 1958 Edsel Ranger 4-door:
Armrests (all 4) $100
2 rear door sill panels $55
Glass regulators for front two doors $80
Driveshaft $100
Hood hinges $75
Letter E emblem for quarter panel $25
2-piece front seat $100
2-piece rear seat $100
Radiator (needs rebuild) $50
Headliner side strips complete set $75
Headliner bows complete set $75
Original dome lens $10
Rear-most quarter panel chrome clips $20
4-door interior handle springs $25
Tiny center windshield chrome piece, bottom center between wipers $20
Contact Tony Kollar at (570)740-1246
---
Posted: August 27, 2016

Edsel Products For Sale (Prices effective October 1, 2016)

NEW ADDITIONS TO THE LINE OF REPRODUCTION PARTS BELOW
1958 Taillight Lens Gaskets - Corsair/Citation (4 pieces) $ 28.00
1958 Trunk Lift Bar Gasket - Corsair/Citation (1 piece) $ 12.00
1958 Taillight Lens Gaskets - Ranger/Pacer (4 pieces) $28.00
1958 Parking Light Lens Gaskets (2 pieces) $16.00
1958 Back-up Light Lens Gaskets (2 pieces) $12.00
1958 Back-up Light Housing Gaskets (2 pieces) $17.00
1958 Trunk Lift Bar Gasket - Ranger/Pacer (1 piece) $ 12.00
1958 Station Wagon Taillight Lens Gaskets (6 pieces) $35.00
1959 Taillight Lens Gaskets (6 pieces) $18.00
1960 Taillight Lens Gaskets (4 pieces) $17.00
1960 Station Wagon Taillight Lens Gaskets (4 pieces) $17.00
1958 Headlight Bucket Gaskets (2 pieces) $28.00
1959 Headlight Bucket Gaskets (2 pieces) $25.00

Kick Panels 1958-1959 $25.00
Hood Insulation Kits 1958-1959 $35.00
Trunk Insulation Kits 1958-1959 $40.00
Trunk Board Kits 1958 Corsair/Citation (5 pieces) $80.00
Trunk Board Kits 1958 Ranger/Pacer (5 pieces) $72.00
Trunk Board Kits 1959 (3 pieces) $63.00
Trunk Board Kits 1960 (3 pieces) $63.00
Glove Boxes 1958-1959-1960 $22.00
1958 Factory Air Glove Box $22.00
Rear Package Tray 1958-1959 $32.00
Rear Package Tray with Speaker Slots/Hole 1958-1959 $45.00


1958 Trunk Mat - Ranger/Pacer. Grained rubber $72.00
1959 Trunk Mat Only $65.00
Washer Bag NEW 1959 $30.00
Washer Bag NEW 1960 $35.00
1959 4-Door Upholstery Backing Hardboards $70.00
1959 Station Wagon Cargo Boards $65.00

All prices plus shipping; Call or e-mail for shipping costs.
Contact Henry Klinger, 506 Pottsville Street, P.O. Box 167, Wiconisco, PA 17097
Phone 717-453-7244, E-mail hedsel44@frontiernet.net
---
---
Posted: August 14, 2016
1958 Citation Transmission for sale.



Completely, professionally rebuilt with less than 2000 miles on it. Torque Converter included.
No shift motor or inhibitor switch. Transmission is packaged on pallet ready to go.
Currently located in Waucanda, IL. at Classic Look Body Werks.
Asking $500.00. For more information call Herb Wiese at 847-372-6730, or email
---
Posted: December 6, 2015
1958 Pacer 2-door hardtop rear clip
Good condition. Sitting on good rolling frame. Rust hole in spare well.
$500. Contact George Barton, 8106 Schott Rd, Westerville, Ohio (Columbus) at 614-218-6333 or email to
---
Posted: December 6, 2015
I have a 1959 Edsel grill (grill, ring and bottom trim)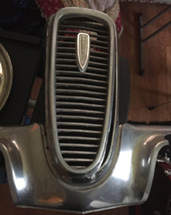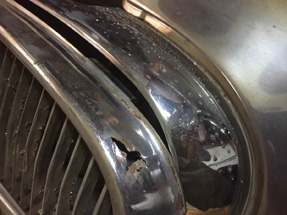 (Click on photos for a larger view)
I would like to get around $200 for the set.
Call Tommy Hendrick at 304-719-16617. Thank you
---
Posted: September 29, 2015
Parting out a 1958 Corsair 4-door
Left and right front bumper guards, very nice drivers and also some rechromed left front with nice pad, $210
Left and right pairs, $335-$375
Ranger/Pacer left rear, $125
Corsair/Citation left rear, nice driver, $145
Tach drive distributor, $175
Ranger/Pacer shift motor, rebuilt, $275
Corsair/Citation shift motor, original, $175
Ranger/Pacer wiper motor, rebuilt, $175
NOS Trico washer jar, $50
Ranger/Pacer tail light housing, right/outer, nice driver, $60
1959 wiper motor, vacuum, Trico, NOS? $150
1959 side grills and headlight bezels, very nice driver quality, $135
1959 headlight buckets, $65/pair
1958 day/night mirror, new glass, $175
1958 left side rocker panel molding, Corsair/Citation, reconditioned, Beautiful, $285
Hooded mirror hood, rechromed, $150
1958 style wheel covers, spinners and applique discs, old and new.
All parts guaranteed satisfaction or money back. Contact Phil McGuire at 812-988-9749 or email coorsair@rnetinc.net
---
Posted: January 5, 2014
I have Edsel TELETOUCH SHIFTER MOTORS, RELAYS, DOOR AJAR SETUPS, AND OTHER PARTS.
All are fully rebuilt and in great working shape. They also look great.
Shifter motors $400, include wiring. I have both large and small series.
Relays $220. That is for both the large relay and the small(park) relay.
I also rebuild the motors and relays daily. Feel free to email. Also if you have motors or relays to sell, I always need cores to help get people's non-working motors working again.
Feel free to email anytime,
---
Posted: October 13, 2013
T85C-8B 1958 Edsel (Three Speed Trans) with and without overdrive Cluster Gear GH R29-25-19-L15T B5A-7113D $75.00.
Contact Jim at
---
Posted: July 7, 2013
I have Two Deck (Trunk) Lids for the 1958 Edsel.
I'm not sure what type. They are both in good shape. Both have chrome trim and tail lights, and both deck lids have EDSEL written across the rear.
I have no problem crating them and shipping. They are located in Tucson, Arizona, so they are rust-free.
I dont know the value of them but imagine they are a hard to find item. Any reasonable offer will do.
I can be contacted at 520-270-5462 or
---
Posted: May 25, 2013
1958 Edsel Power Steering, all there and was on a running car. $300.00
1958 Edsel Shift Motor that goes on the tranmission with bracket. I do not know if it works. A hard to find part. $250.00
Contact Gene at gorzel58@gmail.com
---
Posted: December 30, 2012
I've just finished putting together my 1958 Citation and have a number of parts left over from the project which I'd like to sell. I live up here in Victoria, British Columbia (Canada). Along with the Citation parts I also have a variety of 1958 Pacer parts and cars. Below is a list of parts and cars that I'd like to start off with:
For the 1958 Citation we have a complete 4-door intact would like to part it out.
1958 Pacer four door hard top
1958 Pacer post (sedan)
For the 1958 Pacer we have a number of parts: Doors, hood, glass, fenders, hub caps.
We have one or two complete sets of the stainless trim, made up of new and used parts.
Taillight assemblies new and used complete with lenses new and used.
Please contact John Jardim at johnnyelanor@gmail.com for more info and photos.
---
Posted: November 23, 2012
I have a nice set of '58 Bermuda wood trim. Light transparent pale driftwood color, not a pinewood imitation like usual! Painted by an artist, is ready for clear coat.
Asking $500.00 plus shipping. Please contact me at mitch.oliver71@gmail.com or call 451-450-5070 Thanks!
---
Posted: June 25, 2012
Edsel parts for sale:
1958 Big Series Front Rubber Floor Mat, black, new aftermarket in good condition, $75.00 plus UPS
Reproduction Parts now in stock:
1958 Exact Reproduction Hood Ornaments, $225.00
1958 Exact Reproduction Rubber Bumper Guard Pads, $155.00 set of 4
1958 Corsair-Citation (410 engine) repro. motor mounts, $275.00 a pair with exchange
1958-59 Body Scripts: Die cast chrome, Ranger-Pacer-Corsair-Citation, $159.00 a pair
1958-59 Body Letters: Die cast chrome, $85.00 set of 5
1959 Park Light Rubber Housings, $125.00 a pair
1959 Park Light Lenses, $65.00 a pair
1959 Fender Top Ornaments, $185.00 a pair
Small & big series 1958, 1959, 1960 Reproduction Glove Boxes, $35.00
1958 Trunk Hinge Repair Kit (made of cast aluminum) To do both sides, $95.00
1958 Small Series "361." Spacer between thermostat housing and intake manifold (cast aluminum) $55.00
All chrome cosmetic parts are show car quality and anything not satisfactory can be returned. Email me for a complete parts list of other parts I have.
Contact Jerry Lasseigne, 300 Coulon Road, Thibodaux, LA 70301 Phone 985-446-6487 or email jercon1936@hotmail.com
---
Posted: May 22, 2011
I have a "new rebuilt" fuel pump #4486 for sale in the original box.
The box says it is for a Ford V8 dual 1958, Mercury (Ex. Turnpike) 1957-58 or Edsel (Ranger & Pacer) 1958.
I'm asking $75.00 or best offer. If you would like photos you can email me at paoffs@aol.com.
-Wayne Fellows in Syracuse, New York
---
Posted: June 25, 2010
I have two (2) 4-barrel carburetors for the E-475 engine. Both need rebuilding and each one has a rebuild kit.
I am asking $75.00 for each one or best offer.
My name is Walt Smalanskas and my e-mail is wsmalanskas@stny.rr.com. Thanks!
---
Posted: February 24, 2010
1958 Edsel Pacer 4-door Hardtop - For Parts or Restoration
Electric windows. Has no motor or transmission or fuel tank. Replaced floor boards and stripped for sand blast. Car is sold as is. The front fenders are good, door panels are no good but the seats are useable.
VIN W8UH7007781 57B TEM R 25G 4 A.
Photos here. The car is located in southeast Kansas. Call evenings, 620-762-0509. <!- john.gurnee yahoo com -->

---
Posted: February 13, 2010
Edsel Corsair - For Parts or Restoration
1958 Edsel Corsair 4Dr Hardtop, 58,000 miles, VIN X85X700871.
Passenger two doors are smashed. Good glass. Bottom rust on rear quarters only - bumpers and chrome have no pits or rust. Engine and drivetrain were good before the car was stored away in 1980. Kept inside until the last two years.
$1,200.00 or B.O. Second owner of the car. For any question please contact me.
Ted Kepler, stkepler@frontiernet.net, 218-380-3735
Located in Rutledge, MN., 100 miles north of Minneapolis/St. Paul.