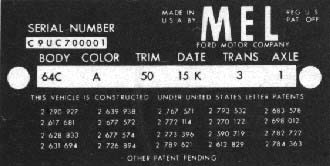 1959 Edsel Data Plate

The 1959 Edsel data plate is 3-1/2 inches wide by 1-3/4 inches high.
Printed on the plate are patent numbers issued to Ford, and the letters "MEL" for Mercury-Edsel-Lincoln. This plate is specific to the 1959 Edsel - Mercury and Lincoln had their own names on their plates.

The first stamped line contains codes to identify the engine, model year, place of manufacture, body style and consecutive unit number. The second line identifies the body style, number of doors, colors, interior trim, date of manufacture and other drivetrain options.
Engine Code: Model Year: Manufacturing Plant:

Body Series Code: Serial Number:
Body Style Code:

Color Code:



(Up to 3 letters. First letter is the main body color, the second is for the roof and side insert and the rear panel on the station wagon. A "1" in the third position will indicate two-tone.)

Trim Code:

Manufacture Date Code:

Transmission Code: Rear Axle Code:
---
Additional Information
Accessories Included:
Lever-Temp Heater/Defroster
Padded Dash and Sun Visors
Dual Exhaust
Air Conditioning
Padded Sun Visors
Exhaust Deflectors
Overdrive Transmission
Two-tone Paint
Color-keyed Floor Mats
Column Automatic Transmission
Curb Feelers
Hooded Side Mirror
Standard Radio
Rocker Panel Mouldings
Oval Side Mirror
Dual Rear Deck Antennae
Electric Wipers
Remote controlled Side Mirror
Power Antenna
Parking Brake Warning Light
No-Glare Rear-view Mirror
Rear Speaker
Spotlight
Courtesy Lights
Power Steering
Electronic Trunk Release
Back-up Lights
Power Seats
Positive-Action Windshield Wipers
License Plate Frames
Power Windows
Windshield Washer
Engine Compartment Light
Power Brakes
Rear Seat Foam Cushions
Luggage Compartment Light
Whitewall Tires
Seat Belts
Glove Box Light
Wheel Covers
Oil Filter
Locking Gas Cap
Wheel Covers with Spinner
Extra Cooling Fan/Radiator
Rear Door Safety Locks
Tinted Glass
Heavy Duty Battery
Other Factory Option
Dealer or Aftermarket Accessories:
Continental Kit
Fender Skirts
Other Dealer-installed
Roof Rack (Villager)
Bubble Skirts
Other Aftermarket
---
Current Condition:

Mileage:
Originality:

Owned by:
Owned since:

Current Location:
Email Address:
Include this email address in my online Edsel Registry entry?
Notes:




---
Now that you've completed filling out the form, hit the "Submit" button below to send your information. The data will be reviewed and added to the online Edsel Registry.
---
If you have a scanned photo of this car, please email it to Registry@Edsel.com along with the first line of the dataplate (so it can be matched up to your entry), and it will be posted with the car's information.
---
Questions or problems? Please contact Edsel.com for answers!