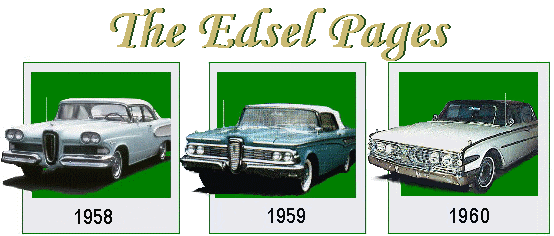 EDSEL PART SUPPLIERS
---
Here you'll find a listing of businesses that cater to the Edsel restorer, providing new and reproduction parts for all three model years.

Edsel parts for sale can be found on the Parts Available link from Edsel.com, and additional part sources may be available from individual Edsel owners and their web sites.

If you know of another source not yet listed, or to fix a source that's no longer valid, please contact admin@edsel.com. Thanks!
---
Specialized Edsel Part Sources
Listed by product type, the US telephone number follows the company name.
Those with asterisks (*) are known to provide parts that are manufactured for Edsels only and deserve our highest support. It's a good idea to have the corresponding Ford part number or description if possible when approaching other suppliers.

BATTERIES & CABLES Antique Auto Battery 1-800-426-7580
BRAKE & GAS LINES Classic Tube, Inc.
CAPS, AIR VALVE www.logonuts.com
CARPET & FLOOR MATS Road Works Auto*
CARPET & TRUNK Auto Custom Carpets* 1-800-633-2358
CONTINENTAL KITS Continental Enterprises* 604-763-7727
CONVERTIBLE TOPS ARO 2000* 845-778-1314, Email
DASHBOARD PADDING Just Dashes* 1-800-247-3274
DECALS Jim Osborn Reproductions* 404-962-7556
ENGINE DIAGNOSTIC EQUIPMENT Auto X-Ray Systems
ENGINE REBUILD KITS Egge Machine Company*, 800-866-3443, Individual components to complete '58-60 engine kits.
FASTENERS, NUTS & BOLTS MSC Fasteners 1-800-359-7166
FASTENERS, TRIM CLIPS Hillco Fastener Warehouse, Garden Grove, CA, 714 534-6882
FASTENERS, TRIM CLIPS RJL Automotive Fasteners 315-986-7121
FASTENERS, TRIM CLIPS Restoration Specialties 814-467-9842 (Catalog is available)
FLOOR MATS, REPRODUCTION, Mike Stephen 574-893-4474
GAS TANK RESTORATION, ANTIQUE Moyer Fuel Tank Renu 1-800-328-9550
GAS TANK REPAIR Henry's Shop 304-253-9662
GAS TANK, REPLACEMENT Auto City Classic*, 1-800-828-2212
GLASS Sanders Reproduction Glass SandersReproGlass.com 360-892-2029
GLASS OEM Glass 800-283-2122
GLASS LOCATOR AutoGlassLocate.com, Finding Edsel glass since 1989
HEATER CORES (See RADIATORS)
INSULATION - HOOD/TRUNK Brookshire Early Ford Parts 704-827-5280
KEY BLANKS Jesser's Classic Keys 330-376-8181
LENSES - 1959 FRONT TURN SIGNAL Auto Krafters, Inc.* 1-800-228-7346
LENSES - 1958 TAILLIGHT Reproductions from Bill Glass* 520-421-0070
LITERATURE - SALES & SERVICE Johnson's Auto Literature* b-johnson@autopaper.com
LITERATURE - SALES & SERVICE Walter Miller 315-432-8282
MANUALS - SHOP/OWNERS Jim Osborn Reproductions* 404-962-7556
MANUALS - PARTS CATALOGS Dragich Discount Auto Literature 612-786-3925
N.O.S. FORD PARTS Bob Cook Classic Auto Parts 502-492-8166
N.O.S. FORD PARTS Bob's 50's Ford Parts 513-426-8041
N.O.S. FORD PARTS Concours Parts & Accessories 1-800-722-0009
N.O.S. FORD PARTS Dean MacDonald Ford Parts 812-359-4965
N.O.S. FORD PARTS Ford Parts Store 419-636-2475
N.O.S. FORD PARTS Green Sales Co 513-761-4743
N.O.S. FORD PARTS Melvin's Classic Ford Parts 404-981-2357
N.O.S. FORD PARTS Obsolete Ford Parts, Inc 405-631-3933
N.O.S. FORD PARTS Obsolete Ford Parts Co 1-800-933-6731
N.O.S. FORD PARTS Weatherly Classique Cars 714-525-9477
PLATING SERVICES Procino Plating 302-629-0331
POWER STEERING HOSES ('59) Gyrhead & Sons Restoration Parts*, 978-682-5817
RADIATORS Classic Ford Radiator*, Edsel radiators, heater cores and related parts, 516-293-2175
RUBBER PRODUCTS METRO Molded Parts, Inc 612-757-0310
PAINT, TOUCH-UP PaintScratch Automotive* Spray cans, paint pens and touch up bottles.
PAINT, CHASSIS POR-15 RestoMotive Labs 1-800-457-6715
PAINT PROTECTION www.paintprotection.co.uk Acrylic finish coating
PAINT PROTECTION 5StarShine.com Teflon® finish coating
SANDBLAST/WELDING SUPPLIES TiP Tools and Equipment 1-800-321-9260
SPOTLIGHTS Accessoryland 319-556-5482
STAINLESS HARDWARE Totally Stainless 717-337-2151
STAINLESS REPAIR Vintage Vehicles 414-787-2656
STEERING COMPONENTS Pro Steering Systems 1-800-650-4145
(Club discounts available on steering gears, pumps, control valves and power cylinders.)
TIRES Universal Vintage Tire 1-800-233-3827
TIRES Classic Tires of America 1-800-347-4251
TIRES Coker Tires 1-800-251-6336
TRANSPORTATION SUPPLIES M&R Products 1-800-524-2564
UPHOLSTERY & HEADLINERS SMS Auto Fabrics*, Portland OR, 503-234-1175
VIN DATA PLATES DataTags.com
(Licensed by Ford Motor Company. Proof of ownership required. Pedigree required for 1960 convertibles.)
WEATHERSTRIPPING METRO Molded Parts, Inc 612-757-0310
WINDSHIELDS See GLASS

---
Edsel Part Suppliers
Mac's Antique Auto Parts
(Edsel-specific engine, drivetrain, interior, rubber seals and even some chrome parts)
MAC's Antique Auto Parts P.O. Box 238
Lockport, NY 14095-0238
1-800-777-0948 (for orders)
716-210-1340 (local calls)
716-210-1370 (fax)



Kanter Auto Products
(Engine, Suspension, Brakes, Interior - A huge supply of Edsel-specific parts)
76 Monroe Street
Boonton, NJ 07005
1-800-526-1096
Fax: (973) 334-5423




<!- H3 A HREF= http: www.sunmanford.net IMG SRC= sunman.jpg HEIGHT 85 WID 225 --> <!- Sunman Classic Ford Supply /H3 --> <!- (Quality used Ford, Lincoln, Edsel, Mercury cars and parts) BR CLEAR="ALL" --> <!- Visit http: www.sunmanford.net SunmanFord.net - Virtual salvalge yard, --> <!- Specials, World wide shipping. --> <!- 201 Broadway --> <!- Seminole, Oklahoma 74868 --> <!- Tel. (405)382-0878 --> <!- Open Mon.-Fri. 12:00p.m./c - 9:00p.m./c -->
Henry Klinger Edsel Products
(Prices effective March 2015)
NEW ADDITIONS TO THE LINE OF REPRODUCTION PARTS!
1958 Taillight Lens Gaskets - Corsair/Citation (4 pieces) $ 28.00
1958 Taillight Lens Gaskets - Ranger/Pacer (4 pieces) $28.00
1958 Parking Light Lens Gaskets (2 pieces) $16.00
1958 Back-up Light Lens Gaskets (2 pieces) $12.00
1958 Back-up Light Housing Gaskets (2 pieces) $17.00
1958 Station Wagon Taillight Lens Gaskets (6 pieces) $35.00
1959 Taillight Lens Gaskets (6 pieces) $18.00
1960 Taillight Lens Gaskets (4 pieces) $17.00
1960 Station Wagon Taillight Lens Gaskets (4 pieces) $17.00
1958 Headlight Bucket Gaskets (2 pieces) $28.00
1959 Headlight Bucket Gaskets (2 pieces) $25.00

Kick Panels 1958-1959 $23.00 (Ford also available)
Hood Insulation Kits 1958-1959 $35.00
Trunk Insulation Kits 1958-1959 $40.00
Trunk Board Kits 1958 Corsair/Citation (5 pieces) $80.00
Trunk Board Kits 1958 Ranger/Pacer (5 pieces) $72.00
Trunk Board Kits 1959 (3 pieces) $60.00
Trunk Board Kits 1960 (3 pieces) $60.00
Glove Boxes 1958-1959-1960 $20.00
1958 Factory Air Glove Box $20.00
Rear Package Tray 1958-1959 $30.00
Rear Package Tray with Speaker Slots/Hole 1958-1959 $45.00
Trunk Mat 1959 $65.00
Washer Bag NEW 1959 $30.00
Washer Bag NEW 1960 $35.00
1959 4-Door Upholstery Backing Hardboard $70.00
1959 Station Wagon Cargo Boards $65.00

All prices plus shipping; Call or e-mail for shipping costs.
Contact Henry Klinger, 506 Pottsville Street, P.O. Box 167, Wiconisco, PA 17097
Phone 717-453-7244, E-mail hedsel44@frontiernet.net
---
Big D's Vintage Tin
(Ford/Mercury/Edsel graveyard)
North Las Vegas, Nevada
Call Dick Drake at 702-644-2800,
fax 702-644-1753, or email bigdvintin@earthlink.net
---
Edsel World / Show Cars
(NOS, used and reproduction Edsel parts of all kinds)
Call Robert Mayer at 239-731-8027 or visit www.edselworld.com



Dennis Carpenter Reproductions
(Mechanical, Electrical, Rubber, Trim)
1-800-476-9653



J.C. Whitney
(General Automotive Supplies)
2319 S. Throop Street
P.O.Box 8410
Chicago, IL 60680
312-431-6102
Fax: 312-431-5625



The Eastwood Company
(Restoration Supplies)
1-800-345-1178



Fox Run Automotive Restoration Products
(Restoration Supplies)
* FREE CATALOG *
1 Fox Run
Oyster Bay, NY 11771
516-626-2369
---
Vacuum-to-Electric Wiper Conversion kit, for 1958-1959-1960 Edsel. New two-speed electic wiper motor and switch convesion kit for 12-volt systems. Bolt-in job, no cutting, direct fit. Complete $198.95, S&H $14.90, USA Only.
Switch adapter, $17.90. Wiper delay set up, extra $63.95.
Also available: L.E.D. bulbs - red, amber, blue, white and green, replaces 1157, 2057, 3157, and many other bulbs, too!
E-mail Frank Botte for more info or call 516-223-8888.
(Prices as of January 2010, subject to change)
---
Edsel-Related Services
Car Insurance Guide from ConsumerAffairs.com
This site includes helpful comparisons of all the largest collector car insurance companies, like Grundy, Hagerty, J.C. Taylor and more.
www.consumeraffairs.com/insurance/car.html
(Note, ConsumerAffairs is not a government agency and charges a fee to companies to become accredited)
---