This page lists classified ads that include anything Edsel-related for sale, from original literature and promotional items, to recent Edsel die cast cars and custom-made Edsel memorabilia.

For Edsel parts and other categories, link back to the Parts Page.

To submit your Edsel ad, please review the Submissions Guidelines page.

The administration and supporting services of Edsel.com are not responsible for any misrepresentations or inaccuracies in the posted ads, and do not in any way endorse or validate the reputation of the seller. Your Edsel webmaster has reprinted quotes, prices and descriptions from electronic mail received. The buyer is strongly encouraged to personally insure that the condition of the piece is as stated, prior to purchase.

---
Posted: October 31, 2017

Edsel T-shirts
(Click on the pictures below to view each shirt as a full-size image)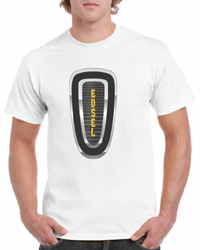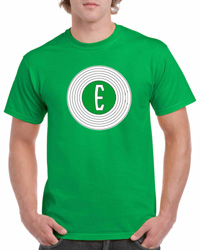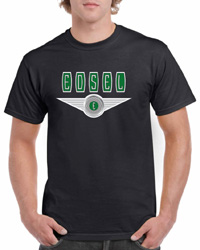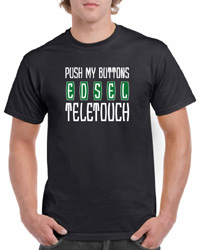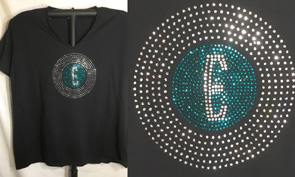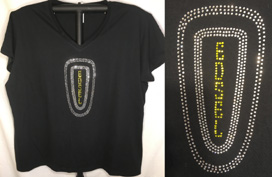 Fat Cats Design has all of your Edsel T-shirt needs covered with rhinestone, vinyl and custom Edsel designs. We can also create a custom Edsel shirt for you, your club or a special event.
Visit us on Facebook @FatCatsDesign or on the Web at www.fatcatsdesign.com.
Contact Mike at 316-737-5171 or email sales@fatcatsdesign.com
---
Posted: December 9, 2015


1959 Edsel Villager Lounge spot
$800. Contact Josh Seaburg at J.S. Affordable Customs, wia email at Jsaffordablecustoms@gmail.com or on the J.S. Affordable Customs Facebook Page
---
Posted: November 30, 2013
I now have the three following books for sale:
Auto Interchange Systems 1950-65 Ford Products Interchange Manual
Other than slight grease stains on the front and rear cover, the book is like new.
They sell new for $44.95. I'd like $30, plus shipping.
Ford Y-block: How to repair and rebuild the 1954-62 Ford OHV V-8
This book is new other than a once-thru.
New they are selling for $19.95. I'd like $14, plus shipping.
Edsel 1959 Maintenance Manual
Has a couple of spots on the front and rear cover, otherwise like new.
They sell new for $48.95. I'd like $35, plus shipping.
Shipping will be from Shasta Lake, California 96019.
Thanks much,
Rob Gale, fg96033@copper.net
---
Posted: July 7, 2013
Time to sell! Three unopened cases of Edsel promo cars. I believe there are 12 in a case.
This is certainly a unique opportunity. Very few collectors have seen unopened crates of original Edsel promo cars.
Sample pictures of the car and the cases are below. Click on each one for a more detailed look.
They were acquired from the estate of a gentleman who was a former Edsel dealer, after he passed away.
The price is $175 X 12 = $2,100.00 a case.
Contact Tom Timmerman in Maquoketa, Iowa at 888-710-5201.
CASES:

CLOSE-UP: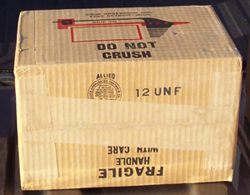 CONTENTS:

---
Posted: June 1, 2012
For Sale: One (1) New Old Stock 1958 Edsel Service Manual
$50.00 plus postage. Contact Peter at PDL9@excite.com
---
Posted: February 16, 2009
I am selling some of my rare Edsel memorabilia:

1958 Edsel Dealer Salesman Data Album
1959 Edsel Dealer Salesman Data Album
1959 Edsel Dealer Color/Upholstery Album
All three albums are complete and in good condition, with no missing pages and bright color. If interested I can email photos.
Give me an offer at 510-333-3650 Days PST
<!- jmmorelli@sbcglobal.net -->
---
Posted: February 7, 2009
I have for sale an original (used) 1959 Edsel Maintenance Manual from the Ford Service Engineering Dept. It is approx 11" x 8.5" in size and 305 pages thick.
I am not sure of its value but I would be open to reasonable offers.
Contact Richard Dunning at richard.dunning@uwclub.net
---
Posted: December 27, 2008


I have several Original Edsel Advertisements that can be used for collections or to display with your car at shows. Above are partial scans of two 1958 ads and two 1959 ads. Most are 10 x 13 inches. A few are 2 pages that can be displayed together as 13 x 20 inches. I have several others, email me at rickscarart2@hotmail.com with the make and model you are seeking. Most go for $5.00 to $10.00 plus $3.50 per tube 1st class U.S. postage. I will reply by email with availability and price.
Thank You,
-Rick
---
Posted: December 5, 2008
Selling my extra Edsel parts, literature and toys.
Email 60edsel@wildblue.net for a catalog with pictures, prices, and other details.
---
Posted: September 22, 2008

1/18 Scale Citation Convertible in Sunset Coral and Snow White
Upgraded Yat-Ming die-cast model from mid-90's, completely disassembled and professionally refinished in authentic Sunset Coral (R) with Snow White (E) scallop and interior trim. Perfectly executed throughout including corrected whitewalls and spare tire inaccuracies. Includes base and display box.
$300. Contact southwestford@qnet.com
---
Posted: August 1, 2008
1960 Edsel $300 Allowance Certificate









My name is Randy Clark from Amarillo, Texas. My dad and I use to own and operate Ron Clark Ford for 23 years. While we were in business, we had a customer that brought in a rebate certificate and wanted to redeem it. There was no expiration date - it just said on your next Ford purchase... So, a customer successfully used this as a rebate towards a new 1995 Crown Victoria that he purchased from us.
(As the certificate is only valid when used by the original Edsel owner, its believed that this is the last known instance where a certificate was redeemed. -Edsel.com)
We were presented with the original hand-type envelope, the hand typed letter to the customer and the $300.00 Allowance Certificate number E198 that is also hand typed in the blanks. I had called our regional office in Dallas and they gave me a number in Dearborn to call. The representative in Dearborn said he would give $600.00 for the certificate but gave me his home address to send it to. I decided after the sale that I would rather keep it for myself and never sent the document to the Ford Rep.
I would like to sell it now and hope that someone in the Edsel community would be interested in this piece of history. I would like to get around $1000.00 for the group in the frame. The letter and the certificate are in mint condition and are not even bent, and the envelope has a only a slight stain on the exterior but is almost perfect.
Please contact me at randoford@aol.com for more information.
---
Posted: August 16, 2005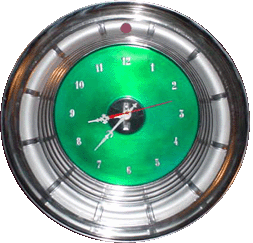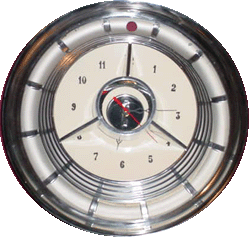 Edsel Hubcap Clocks

Plain, $60
With spinner and applique, $95
Different color schemes and designs available. Contact Phil McGuire at 812-988-9749, or email either coorsair@rnetinc.net or pitstop1964@sbcglobal.net
---