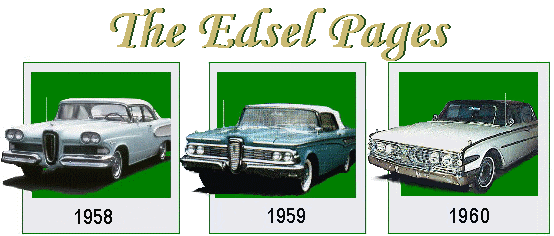 EDSELS IN THE MEDIA
---
Besides advertising and car reviews, the Edsel (and references to the Edsel) have appeared many times in the media, from movies and television to music, books, board games and more. Sometimes in a supporting role but many times as the star. Sure, the Tucker got some publicity a while back, but it's no match for the following list of hits that the Edsel played a role in..
---
Edsel Audio Files
Sound Bites from Motion Pictures
"You checked out in an Edsel." (John Fink, The Carey Treatment, 1972)


"We will survive. The Edsel is faster than a speeding bullet." (Robert Corff, Gas-s-s-s 1970)


"It was a calculated risk." "So was the Edsel." (Jan Michael Vincent/Burt Reynolds, Hooper 1978)


"As usual, Charlie bought us the Edsel of computers." (Joe Flynn, How to Frame a Figg 1971)


"Okay, Edsel." (Karen Black, to Richard Harris who told her that he was an inventor, The Last Word 1980)


In The Love Bug (1968), Jim asks Tennessee, "Is it okay if I borrow your wheels?". Tennessee replies, "Well, okay but I'm afraid you're gonna have a little trouble getting it started." They walk outside, where Jim asks, "Where's the beast? You didn't cut up the Edsel..?!" The camera pans to the grill in a piece of metal art, and Tennessee says, "It came over me all of a sudden. Trust me Jim, it'll be happier up there."


"You bought an Edsel!" (Kathleen Turner, Peggy Sue Got Married 1986)


"I'm sorry about yesterday, the Edsel is a classic, use it in the best of health." (Kathleen Turner, Peggy Sue Got Married 1986)


To the line, "If it tanks, we don't swallow cyanide, we go back to the drawing board.", Jobs replies, "No more drawing boards - invent the Edsel twice, there is no more drawing board." (Michael Fassbender, Steve Jobs 2015)


"Nobody's gonna believe he drove this Edsel to Miami.." (Gerrit Graham, Used Cars 1980)


"What airline did he fly?" " Edsel!" (Jack Warden/Kurt Russell, Used Cars 1980)


"He used to have a green and white Edsel." (Deborah Harmon, Used Cars 1980)


"A green and white.. Edsel?! Oh God!" (Kurt Russell, Used Cars 1980)


"You buried him back there - buried him in the Edsel!" (Jack Warden, Used Cars 1980)
Sound Bites from Television
"They don't even make Edsels anymore!" (Betty Garrett, All in the Family)


"Francis, I just remembered Captain Block bet on Nixon, he was the first one in the club to buy an Edsel, he's still a member of six pyramid clubs.." (Joe E. Ross, Car 54, Where are You? )


"Did John D Rockefeller keep John D Jr out of the oil business? Did Henry Ford keep Edsel out of the auto business? Did William Powell keep Dick out of the movies?" (Sid Melton, The Danny Thomas Show)


The Dick Van Dyke Show (1961) - Rob and Laura Petry make nine separate references, as Rob remembers details of being knocked to the ground by jewel theives in season 3 episode 12, "The Sound of the Trumpets of Conscience Falls Deafly on a Brain that Holds Its Ears.. or Something Like That":
Rob: "I didn't even get their license plate off their Edsel. (Light dawns) They had an Edsel!"
Laura: "You saw them drive an Edsel?"
Rob: "A red Edsel... How could I forget a fire engine red Edsel?!.."
Laura: "What do you actually remember? A red Edsel. There must be thousands of red Edsels running around... Somewhere."
Rob: "There may be, but I bet there's only one red Edsel running around with bumper stickers that say 'I Like Ike' and 'Visit Carlsbad Caverns'."
Later in the episode, the car's owner is discovered to just be an unfaithfully married witness.
Laura: "Boy, I feel bad for that man's wife."
Rob: "His wife? I feel sorry for him."
Laura: "Why?!"
Rob: "He's stuck with a red Edsel!"


"Jerry would be jealous - he's still driving a '58 Edsel." (Dick Van Dyke, The Dick Van Dyke Show)


"(like) a '57 Edsel on the showroom of society." (Al Molinaro, Happy Days)


"We're going to Detroit. They love us there when we wreck Edsels." (Michael Pataki [Count Mallachi], Happy Days, episode 66, "Fonzie loves Pinky, Part 3")


"That could be a terrible investment." "Ah, that's what they said about my Edsel!" (Richard Benjamin/Harold Camp, He & She 1967)


"This car is a combination Hudson, Edsel, Tucker, REO and Packard." (Lucille Ball, to Milton Berle, Here's Lucy)


The Munsters (1965) In the episode "Herman the Rookie", Lily (Yvonne DeCarlo) tells Marilyn, "The last time a man talked to Herman alone, he wound up buying a second-hand Edsel."


The Munsters (1965) In the episode "Hot Rod Herman", Herman describes the Munster Koach to a drag racer, who responds with, "You could've fooled me, I thought they brought back the Edsel."


The Munsters (1965) In the episode "Yes Galen There Is A Herman", Herman tells Eddie that Spot needs to watch what he eats, and Eddie (Butch Patrick) replies, "Yeah, last week he got a hold of an old Edsel. He was sick for three days".


The Munsters (1966) In the episode "Fregosi Emerald Curse", Mother, Dad and Grandpa are talking to a big auto executive who happens to also be sort of a witch doctor with a "lab" behind his office. He likes to put curses on competitor's fuel gages and radios. Grandpa asks if he ever put a curse on the whole automobile, and he replies, "Only once. I assume you've heard of the Edsel?


"I still love my Edsel!" (Mrs Brown, Bill Bixby & Ray Walston's landlord, My Favorite Martian)


"No drug company wants an Edsel." (Jack Klugman, Quincy)


Rowan & Martin's Laugh-In Ohio U's Scott Snider writes in with: "There was a short skit where a salesman stopped at a house, he may have even pulled off the doorknocker, but the person in the house comes out and says he's not buying, adding 'and get your dirty Edsel off of my lawn!'"


"It's the Edsel - it won't start!" (Neil Ross [Mr Namby], Rugrats, episode 47, "Sour Pickles")


"I know somebody else who came back as an Edsel." (Ann Sothern, reincarnated as a 1928 Porter, in the pilot episode of My Mother the Car 1965)


"Harold, if Custer had gone to the Little Big Horn in an Edsel, he still couldn't have touched you for losing." (Cleavon Little, ABC's Temperatures Rising)


"The Edsels.. The Pontiacs.. The Testicles.. Yeah, that one's not going to work." (The Temptations (1998), trying to come up with a new band name when "The Elgins" was rejected by Motown.)


Sound Bites from Radio
"No wonder we've been around as long as the Edsel" (Speedy Auto Service April 2002 radio ad)


"Looks like three hubcaps in search of an Edsel" (Stiller & Meara describing a piece of modern art, Blue Nun Wine 1984 radio ad)


References in the Recording Industry
Bob Newhart's 1960 comedy album The Button-Down Mind Stikes Back! features "Ledge Psychology", about how police would talk down a jumper. The policeman correctly guesses that the jumper is in advertising, as they're frequently suicidal. He recalls, "Some guy had the Edsel account, I think."


Billy Joel's 1989 chronologic hit We Didn't Start the Fire includes the line "Edsel is a no-go".


The Brothers Four album, "The Brothers Four: In Person", features a track called The Thinking Man, John Henry. It tells the story of a modern John Henry who competes against the computer. In the spoken word portion, it covers John Henry's various jobs, including at Ford where "he thought up the Edsel".


Canadian DJ Charlie Russell's 1974 song The Bricklin includes the chorus line, "Is it just another Edsel wait and see."


Devo's 1981 hit Beautiful World music video includes a brief clip of an Edsel Villager getting slammed by a '58 Ford Fairlane. (Edsel lovers: Viewer discretion is advised.)


Huey Lewis and the News' music video for Give Me the Keys is peppered with classic cars, including a big-series Edsel convertible in red.


Timeless rock group Paul Revere and the Raiders's stage show features Paul behind a keyboard that's designed to look like the nose of the 1958 Edsel.


Ronnie Milsap's She Loves My Car has a nice shot of a black 1958 Edsel Citation convertible (maybe Kris Trexler's?) motoring up the freeway with a guitar player.


In 2001, the band Morris Hendrixson had a concept album centering around a 1958 Edsel, retrofitted with an experimental engine that can fold space and time.


---
Edsel Literature Files
References in Poetry
Clive James' The Book of My Enemy Has Been Remaindered calls out the Edsel in the same breath at clinkers, dregs, bummers and "unbudgeable turkeys".


References in Fiction
Going Home to the Fifties by Bill Yenne (ISBN: 0867195657) Features a reproduction of a red 1959 Edsel Corsair ad on the back cover.


Saint Ben by John Fischer (1993, Bethany House Publishers) The 1958 Edsel is used as a metaphore for nine-year-old Ben, who sees a lot of himself in the car's appearance and appeal. "A must-read", according to the person submitting the reference, who thought enough about the book to start researching the car's history!


Wake Up Little Susie by Ed Gorman (2000, ISBN: 0786706651) A murder mystery with a 1958 Edsel as a key player.


The Worst Goes South by James Stevenson (1995, ISBN: 0688130607) This children's book features the worst person in the world.&nbsp And he drives a 1959 Edsel.


Mage: The Hero Discovered by Matt Wagner (1984, Comico) Comic book hero with a 1959 Edsel, which appeared on the cover of issue #12.


One Year After by William R. Forstchen (2016, ISBN-13: 9780765376718) After an EMP wipes out all computer chips in post-apocalyptic America, the protagonist drives his mother-in-law's 1958 Edsel past all the dead modern cars.


References, Misc. Publishing
Shoebox Cards (a division of Hallmark) issued a Valentine's Day card for 2010 featuring four feisty older ladies cruising in a red 1958 Pacer convertible.


The 1976 Topps trading card Happy Days series included card #41, a frustrated master mechanic Fonzie (Henry Winkler) with the caption, "I can't fix your car, guys! You'd be better off with an Edsel!"


On December 14, 2011, Topps released its American Pie series of trading cards featuring memorable Americana, including card #61 entitled, "The Edsel Flops".


The 1972 Parker Brothers board game Dealer's Choice let players wheel and deal in used cars, including a 1959 Edsel Corsair.


When Odie the dog was introduced to Garfield in the August 10, 1978 comic strip, he was compared to an Edsel.


Mad Magazine (Number 81, September 1963) Announcing the 1963-3/4 Edsel Suburban


Mad Magazine (Number 97, September 1965) Tactics to selling a lemon, in "Edsel: A Nightmare Relived".


---
Edsel Video Files
Film
Adventures in Odyssey Cartoon series from "Focus on the Family" video. Episode 12, "A Stranger Among Us", involves a '58 Edsel chase scene, ending with the car going off a cliff.


Airplane II (1982) The Lunar Shuttle is jumpstarted from a '59 Edsel


Aloha Summer (1988) Coming of age in 1959 Hawaii, with a 1958 Bermuda Wagon


American Grafitti (1973) Cindy Williams drives a 1958 Corsair 4-door into Mel's Diner.


Anatomy of a Murder (1959) A '59 Ranger 4d sedan police car is in several scenes)


Back to the Future II (1989) 1958 Pacer 4d hardtop is featured on a video billboard.


The Bat (1959) Vincent Price drives a 1959 Edsel , but it's only seen from the front so the model is unknown.


Blacktop (2000) Meatloaf in a Peterbuilt semi takes on a red/white 1959 Ranger 4-door sedan!


Blood Ties (1991) Features a vampire family that drives a white '58 Edsel.


The Case of the Christmas Caper (1995) Starring the Olsen twins, Mary Kate and Ashley, features a red and white '58 Citation convertible that serves as the transportation for Santa's elves.


Crazy Mama (1975) Starring Cloris Leachman, A 1960 Edsel police car loses its door and is rolled over, while in another scene the Edsel wears a metallic blue and white paint job.


Coupe de Ville (1990) Three brothers take a Cadillac across America, and nearly collide with a red/white 1958 Edsel Ranger driven by an old man.


Diary of a High School Bride (1959) A blue 1959 Corsair convertible is featured, even on the movie poster.


Duece Coupe (1992) Foltz drives his father's dark blue & white 1958 Pacer convertible.


Far From Heaven (2002) Good closeups of Jim Massaro's like-new green Pacer 4-door hardtop. There's reportedly a Citation 4-door in the film as well.


Female Trouble (1974) John Waters film that includes Divine driving a 1959 Edsel wagon.


Flim Flam Man (1967) 1959 Ranger 2-door sedan plays the Sheriff's personal car that later becomes the Flim Flam Man's getaway car.


Frances (1982) Ford Motor Co presents Frances Farmer, played by Jessica Lange, with an Edsel (see note below)


Freakazoid! (1995) During the intro scenes of the secondary character, The Huntsman, you see him run by and jump on a 1958 Edsel 2-door hardtop.


Gas-s-s-s (1970) A psychedelic film starring Ben Vereen and Cindy Williams, a bunch of hippie-types riding cross-country in a 1958 Pacer 4-door in search of Nirvana. In the words of contributor Dave Shrensky, "To call this film a "B" movie would be an insult to every other "B" movie!"


Girls Town (1959) A Bermuda wagon is driven by nuns out to rescue Mamie Van Doren's sister from the evil Mel Torme.


The Ghost and Mr. Chicken (1966) Don Knotts drives a '58 Citation 2-door.


Guns, Girls & Gangsters (1959) Mamie Van Doren drives a 1958 Citation Convertible.


Hey Boy! Hey Girl! (1959) A '58 Bermuda is raffled off to raise funds for a boys' camp.


High School Musical 3: Senior Year (2008) The singing teens use the hood of a yellow 1959 Edsel as a dance floor.


Honky Tonk Freeway (1981) Beverly D'Angelo takes a pink 1959 Ranger 2dr sedan though the drive-thru crematorium.


How I Got Into College (1989) Includes an Edsel riding down the road, smoke billowing from the exhaust.


Just a Dream (2002) A red/white '59 Ranger 2d hardtop is shown broken down in the opening scene, and its driver uses the excuse that the car breaks down frequently to cover the fact he's having an affair. Directed by Danny Glover.


Killing Car (1993) A green 4-door 1958 Corsair is driven by a woman who kills just about everybody. Subtitled from French, the movie is stunningly bad. Acting, lighting, sound, directing.. the movie poster even shows a Buick. The Edsel deserves better.


La Leggenda di Al, John e Jack (2002) "The Legend of Al, John and Jack", an Italian film shot in New York City, includes several scenes of the three main actors (an Italian comedy trio) driving a gold and white small-series 1958 Edsel.


Last Clear Chance (1959) A red 2-door 1959 Corsair is used to demonstrate the dangers of driving while tired, in this instructional video featured on Mystery Science Theater 3000.


Malabana ["Malavana" for US release] (2002) Features a stunning red '58 Pacer convertible. (see note below)


Mermaids (1990) Cher's daughter's teacher drives one.


Netherworld (1992) Stars the World's Fastest 1959 Ranger (see note below)


Norwood (1970) Glen Campbell, Kim Darby and Joe Namath, features Glen driving in many scenes his 58 Pacer sedan.


Pee-Wee's Big Adventure (1985) Pee Wee Herman takes a ride in a 1959 Corsair convertible which ends up going off a cliff in the dark. The top pops up and floats them down like a parachute (timecodes 33:51 to 40:03). (See also "Weekend Warriors", listed below.)


Peggy Sue Got Married (1986) Peggy's dad comes home with a blue-on-blue '58 Pacer 2-door hardtop.


A Perfect World (1993) A 1959 Villager gets its side back window shot out of it about 15 minutes in to the film.


Pootie Tang (2001) "Dirty D" drives his dirty red/white 1959 Ranger 2d hardtop into a car wash.


Roadhouse 66 (1984) Judge Reinhold's girlfriend has a '59.


Shag (1989) Yellow/brown 1958 Villager cruises Myrtle Beach.


Terror from the Year 5000 (1958) A scientist rents a dark 1958 Corsair from Hertz. Featured on "Mystery Science Theater 3000" in Season 9 (1997).


The Texas Chainsaw Massacre 2 (1986) Chainsaw store owner drives a '59 Ranger 2dr sedan.


Three Fugitives (1989) The doctor drives a copper 1959 Corsair 4dr hardtop in a chase scene that lasts about 3 minutes. He gets away, but the car takes a beating.


This Boy's Life (1993) Features a green & white 1959 Villager (see note below)


Tough Guys (1986) Eli Wallach drives a smoking 1959 Ranger 4-door hardtop.


Underground Aces (1981) Includes a chase scene with a red 1959 Corsair 4dr hardtop.


Used Cars (1980) Opening shot, a close-up of a white 1959 sedan on a pole. (This car is "acting" as a 1958 Edsel. If you look close enough, there's even EDSEL lettering going down the grille!) Later this car is lowered, where it becomes a '58 Ranger hardtop, white with blue roof and scallop. When the Edsel is buried soon after, it reverts back to the white '59 4-door. The Edsel is later exhumed and sent charging across the land, except it's back to the two-tone '58. At the end of its journey, it changes one last time to the 1959 painted with a fake blue scallop before crashing into a power transformer and exploding.


Weekend Warriors (1986) Stars the oddly painted tri-tone 1959 Corsair convertible. (See also "Pee-Wee's Big Adventure", listed above.)


Television
The Alfred Hitchcock Hour In the 1964 episode, "Anyone for Murder?", a 1958 Citation 2dr hardtop follows the main characters' car through traffic for a long time.


The Alfred Hitchcock Hour In the 1965 episode, "Final Performance", a 1959 Ranger 4dr hardtop is stopped by the sheriff and won't start. It's towed to town where it's eventually repaired, but the car's owner can't pay and makes a getaway in the Edsel.


The Andy Griffith Show Barney drives a 1958 Edsel convertible back for a college reunion with Andy.


The Big Easy Marla Maples-Trump behind the wheel of a fast 1959 (See note below)


Black Harbour (1998) The 7th episode of season 3, "Field of Dreams", focuses on getting a 1958 Edsel running. An early version of Edsel.com can be seen as they search the web for parts.


Cadillac Jack & Ponder (1998) (Tri-tone 1958 Pacer 2-door in the opening scene (See note below))


The Car's the Star (1998) The British classic car television series hosted by Quentin Wilson focused an episode on the history of the Edsel.
The full episode is online: Part One and Part Two


CBS... 50 Years from Television City (2002) Includes a 1958 Citation convertible in its retrospective highlights from 1957's The Edsel Show


CHiPs Criminals drive a 1959 Edsel in the first chase scene of the episode.


CHiPs Alan Humphrey writes, an Aqua '59 Ranger 4-door is featured throughout the episode. The car was stolen, and the criminals had to have the Edsel repaired before it could be sold. The part was purchased from a parts shop that specialised in Edsel parts. They ordered a u-joint for the repair. The salesman, when asked by Ponch and John, said that he hadn't had much call lately for Edsel parts. The mechanic at the garage laughed too and when asked said that is was a sort of green colored Edsel.


Classic American Cars of Cuba (2002) PBS documentary features a red/white 1958 Pacer convertible.


Criminal Minds: Beyond Borders (2016) A black 1959 Villager is used as local transportation.


Doctor Who (2011) In the 2011 season opener, "The Impossible Astronaut", the Doctor drives a red and white 1959 Villager as his primary vehicle.


The Donna Reed Show The 1st series family car was a '58 Bermuda!


The Edsel Show (1957) Live, Sunday, October 13, 1957. CBS-TV 8:00 P.M. E.D.T. From TV Guide:
"This one-hour musical review is presented by the Edsel Division of the Ford Motor Company to introduce the Edsel, its new line of automobiles. The show is being done as a benefit for Gonzaga U., Spokane, Wash. Gonzaga's best-known alumnus, Bing Crosby, co-stars on the show with Frank Sinatra. Also performing are Rosemary Clooney, Louis Armstrong, Bing's No. 4 son Lindsay Crosby, who also sings, the comedy dance team of Mr. Conn and Mr. Mann, pianist Buddy Cole, the Four Preps and the Norman Luboff Choir. Camarata is musical director, and choreography is by the noted dancer Eugene Loring."


Eight is Enough Eldest son drives a Citation convertible into the family driveway.


High Class Type of Mongrel (1959) Features a 1958 Villager.


I Still Dream of Jeannie A hitchhiking Jeannie is picked up in a blue/white '58.


Ironside In the episode "Puzzle at 24,000", guest star Desi Arnaz plays a small-town doctor and 1959 Edsel owner. In an attempt to dissuade the doctor from investigating a murder, the murderer tampers with the Edsel, cutting the front tie rod, and causing Desi to drive the car through the side of a house. Desi survives... the Edsel is mangled.


Lakota Woman: Siege at Wounded Knee (1994) An aqua & white 1958 Edsel makes an extended appearance on the reservation, and may be driven by a vaguely relevant character. Further research is advised.


Let's Make A Deal (1973) "Now, let me tell you about that car. You see the name on that car? They didn't make those very long, you know.
They made them for a year or two and then they went out of style. You really have a collector's item. That's an Edsel!"
-Monte Hall to a horrified contestant who just won a rusty 1959 Villager.


Lock Up (1959) While investigating real cases from the files of renowned Philadelphia defense attorney Herbert L. Maris, one of the lawyers drives a 1959 Ranger 4dr hardtop.


Movin' On (1976) In the second season, episode 15 titled, "The Old South Will Rise Again", a red and white 1958 Pacer convertible is prominently featured. (This series is available on Hulu.)


Mystery Science Theater 3000 Edsel-related movies shown on the Satellite of Love include "Last Clear Chance" and "Terror from the Year 5000", which each have their own entry on the Edsels in the Media page.


Perry Mason Several Edsel episodes:
1958 Corsair convertible is driven by a psychiatrist's assistant.
A gold and black Citation convertible is driven by a bank embezzler.
Citation 4dr hardtop is driven by a detective.
Two-tone 1959 Corsair 4dr hardtop driven by a female gambler ends up in a ravine.


The Powers of Matthew Star A blue/white 1958 Ranger 2dr hardtop crashes into another car after chasing Matthew.


Rocko's Modern Life (2000) During a heated battle between Rocko and his neighbor Ed to become the town dog catcher, Ed runs a commercial claiming that Rocko is responsible for the 1958 Edsel and other tragedies such as the Hindenburg.

A cartoon '58 Edsel collapses on the showroom floor.

Rugrats (1998) A cartoon '58 Edsel is towed away with bad brakes.


Rugrats (2000) A 1958 Citation (with "EDZEL" in the grille) won't start, and can't be repaired.


Saturday Night Live "Fuzzy Memories" sketch features a Bermuda wagon, and a boy sticking his head out the window as it drives down a two-lane highway.


Scarecrow & Mrs. King A KGB agent is locked in the trunk of a blue/white 1959 Ranger 4dr hardtop.


Simon & Simon 1958 Corsair 2-door in two scenes, in the episode "Reunion at Alcatraz".


Starski & Hutch (1976) Paul Elia reports: In the episode "The Las Vegas Strangler", a Red '58 2dr Citation convertible with a white & gold insert is substituted for the trademark red Torino in an undercover stint in Vegas.. In one shot they pull up in front of a drug store and try to hurry inside, but Starski can't get the driver door to shut. He slams it 3 or 4 times and finally just leaves it open and goes inside. The rest of the episode shows them jumping out of the drivers seat over the door because it won't open! (See more notes below)


This Is Your Life (1958) Frances Farmer is presented with a 1958 Pacer at the end of the show. (See notes below)


This Is Your Life (1958) Harry Momita is presented with a green and white 1958 Corsair 4-door hardtop for being a "Japanese immigrant with an unwavering devotion to the USA". This car is believed to be VIN X8SX708516, still on the road in Texas.


To Tell The Truth Edsel Owners Club co-founder Edsel Henry Ford fooled most of the panelists as to his real identity.


The Veil (1958) Episode 2 of this Boris Karloff series, "Girl on the Road", features a 1958 Citation convertible who's driver gives the Teletouch a workout. The link to the video is here.


When Good Ghouls Go Bad (2001) Christopher Lloyd drives a green 1959 Edsel in this Fox Family Halloween Special.


Wonderful World of Disney NightowlBruce@juno.com writes in with: As I recall, somehow a guy makes friends with a wild wolf and winds up driving it around in the back of a 1959 Villager. At the end of the movie, the wolf got out and went back into the wild. The car was probably at least 5 or 8 years old in the movie, just a typical old car at the time. It may have been a film and not made for TV, but I know I'm right about the Edsel and the wolf and that it was Disney.


Television Commercials, For Edsels
Edsel Division, 1958 Model
They'll know you arrived...
(Download temporarily unavailable)
Edsel Division, 1959 Model
Circus
(Download temporarily unavailable)

John Cameron Swayze
(Download temporarily unavailable)

(Windows Media Player is required to view these files. Get a copy here)
Television Commercials, Using Edsels
Atlantic Gasoline (1958) Each note in their happy jingle features a different shot of a 1958 Bermuda wagon. (Video from Romano Archives)


Cuban Holidays Showing in England is an ad for Holidays for the Over-50, filmed in Cuba using a 1958 Red and White convertible.


Dunkin Donuts Satan drives a red 1958 Citation convertible.. who knew!


Franklin Mint '58 Pink/White Citation convertible in 2 scenes.


Libby's (1969) A series of commercials for Libby's vegetables and juices feature a 1958 Citation convertible driven by secret agent, broadcast as part of a 1969 Woody Allen comedy special.


Nextel (2004) Shown during NASCAR races, this "It's good to be a fan" spot includes fans arriving in a 1958 Pacer 2-door.


NTSB Lamp in the Crash Dummies' home is made from a '58 grille.


Tennessee Lottery (2004) A pink 1958 Edsel's in the "Tennessee's Ticket to Fun" promotion.


Triumph (1970s) As the voiceover talks about the racing prowess of the Spitfire, it's passed by a series of "non-performance" cars including a white 1959 Edsel.


Television Quiz Shows
(Answers are at the bottom of the page)
Greed March 2000
Of these cars, which four were first available: Edsel, Mustang, Beetle, Eldorado, Corvair, Corvette


Super Password
The clues: Fancy, Fifties, Failure, Ford, Model.


The Weakest Link 2002
Which Ford flop was named after Henry Ford's son?


Who Wants to be a Millionaire March 2000
Which automobile was the focus of consumer advocate Ralph Nader's book?


---
Edsels in Video Games
Grand Theft Auto 2 features "Eddy", a 2-door sedan that's clearly modeled after the 1958 Edsel.


Maniac Mansion for the Nintendo Entertainment System (NES)
There's a "Weird Edsel" in the Edison's garage. It comes into play during one (or more) of the many end-game sequences. (If you put the meteor in the trunk before launching the car, you get an alternate ending that shows the front of the Edsel.)
A sample from YouTube is available here.


---
Edsel Internet Videos
---
Edsels in the Mist
(Background shots)
Film
The Astro-Zombies (1968) A 1958 Villager is seen as a goon is run down by a Cadillac.


The Atomic Cafe (1982) Archive footage fills this period piece, and includes a 1958 Edsel radio being tuned, followed by a street view of this car passing another 2-tone 1958 Ranger, around the 33-minute mark. Forty-two minutes later in the film, a light colored 1958 Edsel can be seen as people evacuate a diner.
Back to the Future II (1989) "Futurized" 1959 Ranger 4-door briefly turns a corner.


Cheech & Chong's Up in Smoke (1978) There's a 1958 Edsel in the backyard of Pedro's (Cheech's character) house.


Coal Miner's Daughter (1980) Rear of a '59 in plain view in a parking lot scene.


Coupe de Ville (1990) At the beginning, just before they pick up their little brother, they drive by a parked off-white 1959 Corsair 4-door. Shortly after the screen says "11 years later", there's a red 1959 Ranger that can be seen turning the corner of the block.


Cujo (1983) A 1958 Villager is parked in a farm yard.


Dark City (1998) A few scenes show the back of a 1959 Edsel in this low-light sci-fi production.


The Day it Came to Earth (1979) Tom Champion's turquoise/white Pacer convertible is shown.


Detroit (2017) A 1959 Ranger sits in the parking lot of the Algiers hotel.


Dogfight (1991) 1959 Villager appears in this, one of the last River Phoenix films.


Eva's Bayou 1958 Villager outside the bar when the doctor gets shot.


The Flamingo Kid (1984) A white/red 1959 Corsair convertible is parked in the club's parking lot.


Glory Road (2006) A Mist Green and White 1959 Ranger 4-door hardtop drives by in the rain.


Godfather Part II (1974) A '59 rolls by on the streets of Havana while Michael Corleone stands in foreground.


Hairspray (1988) Red 1960 Ranger 2-door HT parked in front of the gymnasium.


Havana A Powder Blue and White 1958 Ranger is seen in the streets.


In Cold Blood (Remake) The opening shot, a street scene from above, clearly shows a parked '59 in the foreground.


La Cucaracha An Edsel appears in a street scene.


The Love Bug (1968) Edsel grille welded into Tennessee's sculpture made from junk.


Love Field (1992) A bluish-green colored 1959 Ranger 4-door sedan is parked in front of the hotel room.


Love with the Proper Stranger (1963) An Edsel taxi is parked outside Natalie Wood's apartment building near the end of the film.


Middle of the Night (1959) In the middle of the film, driving behind Kim Novak and Frederick March's car is the unmistakeable grill of a 1959 Edsel.


Naked Gun 2-1/2 (1981) Photo of a '58 convertible between Michael Dukakis and the Hubble Space Telescope, in The Blue Note bar.


A Night in the Life of Jimmy Reardon (1988) River Phoenix passes a parked Red/White/Black Pacer 2-door hardtop.


1969 (1988) Reportedly a white 1958 Edsel appears in the film.


North by Northwest (1959) Cary Grant is sent down a hill at night in a car with no brakes. As he tries to keep the car on the road, he almost hits a 1958 Edsel.


Nothing But Trouble (1991) An advertisement for the 1959 Edsel is on a table.


Novitiate (2017) A blue-on-blue 1959 Ranger 4-dr sedan pulls up to the church as parishioners gather for service.


One from the Heart (1982) There's a blue 1958 Edsel front end in the Reality Salvage yard.


A Perfect World (1993) At the beginning, a faded green '59 Villager is parked in front of the criminal's car.


Pee-Wee's Big Adventure (1985) Besides the star '59 convertible Pee Wee Herman drives, there's a white/pink 1958 Citation convertible with front bumper guards at the drive-in theater, timecodes 1:21:22 to 1:22:26.


Peggy Sue Got Married (1986) Nicholas Cage passes a tan 1959 Ranger 4-dr sedan


Psycho (1960) A 1959 Edsel is in the car lot where Janet Leigh changes cars.


Ray (2004) A green 1959 Edsel is passed when Ray and the family go to the new house.


The Rescuers (1977) When Bernard and Miss Bianca are flying through New York on Orville the albatross, there is a short glimpse of a 1959 Edsel stopped at a red light.


The Sandlot (1993) A 1958 Edsel sits in front of the drug store.


The Siege of Jadotville (2016) A poster of a family with a red 1958 Edsel hardtop is mounted on the wall in this Netflix-distributed film.


The Shaggy Dog (1959) When Wilby Daniels turns into the dog at the dance he escapes to the parking lot and crawls by a 1958 Citation more than once.


The Shawshank Redemption (1994) A white 1959 Villager is seen in the parking lot from the warden's window


Strangers When We Meet (1960) A Talisman Red with dark trim 1959 Edsel 2-door hardtop is seen just after the opening credits as the camera pans across a neighborhood.


Sweet Home Alabama (2002) In an aerial shot of the fair, a Coral/White 1958 Edsel can be seen on the left.


Thirteen Days (2000) Kevin Costner political thriller includes a passing 1960 Ranger sedan while the credits are still rolling. A second Edsel - the back of a parked 1958 Citation - is also seen later in the film. (A blue/white '60 in the White House parking lot looks a lot like an Edsel, but upon closer inspection is actually a Ford Fairlane.)


We Are Marshall (2006) As the funeral procession is coming towards the camera, the rear of a small-series 1958 Edsel can seen.


What's Love Got to Do with It? (1993) The front of a 1958 Edsel can be seen, parked on the curb behind the bus that Tina Turner gets off of.


Wizard Beau Bridges film, where a black '59 comes up close as 3 kids are hitchhiking.


The World According to Garp (1982) An Edsel is parked in the street as a piano is hoisted up to a window.


Television
Adventures of Ozzy & Harriett A 1959 Corsair convertible passes behind the Nelson boys as they search barber shops for a mysterious man.


America's Funniest Home Videos (1991/92) Jere and 5-year-old Gennie Gauss sing with Chuck Berry in a 1958 Pacer convertible (see notes).


The Buena Vista Social Club 1958 Pacer in a twilight street scene


The Celebrity Apprentice (2015) The season finale promotes Universal Studios with a shot of a turquoise and white 1959 Edsel Ranger parked in the streets of the theme park.


Counting Cars (2014) The crew takes pictures with a Talisman Red 1959 Edsel Ranger at a tourist spot along Route 66 in Arizona, in the "Get Your Kicks" episode.


Counting Cars (2015) A Jonquil Yellow 1958 Edsel Ranger catches the eye of Danny "The Count" Koker as he walks across the parking lot.


Crime Story (1986) Yellow/Grey 1958 Ranger 2d HT, Black/White 1959 Ranger 2d HT, Turquoise/White 1959 Ranger 4d HT in Chicago & Vegas background footage. In the series pilot episode, a blue 1958 Edsel comes into view as a 1959 Ford pulls away.


A Day Called X (1959) CBS production of a Portland, Oregon nuclear strike, narrated by Glenn Ford. Includes a shot of a 1958 Edsel.


Dukes of Hazard Unconfirmed sighting of a '59 Edsel when the police follow the Dukes into a junkyard, in the first episode that Daisy tries to get a recording contract.


Feud: Bette and Joan (2017) In Episode 5, "And the Winner Is.. (The Oscars of 1963)", a turquoise and white 1959 Ranger 4-door sedan is parked in front of a theater in New York City as Joan Crawford's taxi approaches. In the very next episode, "Hagsploitation", a remarkably similar (read as, "the same") turquoise and white 1959 Ranger is seen parked in the backlot of a movie studio in Hollywood.


Green Acres 1958 Edsel radio calling out market prices was installed under the dashboard of an apple truck.


Home Improvement 1959 horsecollar & grille adorn a garage in the wild that's filled with other failed ventures.


The John Henson Project (2004) Set prominently features a 1958 Edsel wheel cover with spinner.


HG Wells' War Of The Worlds Scandal - The Day That Panicked America Video documentary. While describing folks tuning in to Orson Wells' 1939 broadcast, a shot is shown of a hand tuning a 1958 Edsel radio (the same footage from the movie The Atomic Cafe listed above.) What a '58 car has to do with a '39 radio broadcast is unclear.


How Sex Changed the World (2013) A 1958 Pacer convertable is decked out for a wedding.


Junkyard Wars (2003) A white 1959 Edsel appears behind the contestants.


King of the Hill (2003) Unconfirmed, but it looked like the taillights of a cartoon Edsel wagon.


Leave It To Beaver Jere Gauss has analyzed the first three seasons and found:
Episode 1X34, Beaver's Bad Day, Initial air date: June 4, 1958
At 00:54, 1958 Edsel Bermuda in driveway background, in a teaser before the credits.
At 19:09 to 19:52, Same scene again in full this time. The Bermuda has whitewall tires,
full wheel covers, backups delete, perhaps tinted glass.
It sports the 1956 California license plate "PBW240".
This is not the Beav's driveway. Wally and Beav are walking
somwhere else in the neighborhood in their Sunday best suits.
Episode 2X6, Her Idol, Initial air date: November 6, 1958
At 22:32 a 1958 Edsel Citation convertible drives by slowly.
At 23:10, the Citation convertible drives back the other direction.
The Edsel is in the background as seen from a city park. Beaver is
talking to two friends in a tree. The Citation has its top up and
you can see it has spinner wheel covers.
Episode 3X10, Beaver's Fortune, Initial air date: December 5, 1959
At 4:55, a 1959 Edsel Ranger passes in the foreground with Beaver and Larry downtown.
At 5:49 to 6:34, a 1959 Edsel Ranger is parked in the background with Larry in the foreground.


Life's Most Embarrassing Moments 1958 Pacer Convertible photo hangs on the wall of the set.


Mad Men (2014) A turquoise and white 1960 Ranger can be seen in the street behind the phone booth.


Masters of Sex (2015) The Showtime series about Masters and Johnson includes a 1959 Villager in the parking garage in the episode "Through a Glass, Darkly"


Once Upon A Time (2013) A customized 1959 Ranger 2-door hardtop is parked outside the mechanic's garage in Storybrooke.


Perry Mason (1959-1960) Several episodes with background Edsels. "The Case of the...:
...Bedeviled Doctor", a 1959 Corsair convertible in the apartment building parking lot.
...Mythical Monkeys", a 1959 Corsair convertible is parked two cars away from a suspect's Buick.
...Romantic Rogue", a 1958 Citation 4dr hardtop in the Esquire Motel parking lot.
...Shattered Dream", a 1958 Citation 4dr hardtop in the gem cutter's parking lot.
...Spurious Sister", a 1959 Corsair 4dr hardtop "crashed" down an embankment.
...Watery Witness", a 1959 Corsair convertible is owned by a movie actress.
1958 Pacer 4dr hardtop in a motel parking lot.
1958 Pacer 4dr hardtop parked outside the courthouse during a zoo kidnap case.
1959 Corsair hardtop parked at the Fishing Club.
1959 Villager wagon is parked on the road on "Founder's Day".
1959 Corsair convertible rented by an older woman who finds the body of her cousin.
1959 Corsair 2dr hardtop next to a suspect's Buick in a restaurant parking lot.


Quantum Leap A 1959 Corsair - maroon with turquoise spinner appliques! - in the episode "Justice".


Route 66 A 1958 Corsair 2dr hardtop is parked outside the 5th precinct police station in New Orleans.


Route 66 A 1959 Ranger is parked at the airport as a plane lands.


SCTV In the "I Was a Teenage Communist" sketch, opening scenes show photos of 1958 Citation Convertible and Ranger 2d sedan.


77 Sunset Strip In the episode "The Kookie Caper", Kookie (Edd Byrnes) parks a yellow 1959 Corsair in the lot. It wasn't filmed in color, but they say it's yellow later in the episode.


77 Sunset Strip In the episode "Lovely Lady Pity Me", there's a 2-tone 1958 Citation parked behind the police car.


Superman: The Animated Series In the second episode of the first season, a car tire explodes, and as it careens towards a gas station, a 1958 Edsel pulls out of the station parking lot.


That Night (1993 TV movie) 1958 Pacer is passed by Juliet Lewis' wildly driven '58 DeSoto.


Where the Action Is (1966) Jere Gauss found a kinescope of this Dick Clark series episode (#291, first aired August 11, 1966) which includes a segment of the Knickerbockers covering the Animals hit "We Gotta Get Out of This Place" filmed at a city park in Huntsville, Alabama. The atmosphere shot immediately preceding the group's number includes a parking lot where a light colored 1958 Pacer or Corsair with a dark scallop drives through in the background, at timecode 10:56 through 11:07.


---
Ruminations
For the nitpicker in you: In "Peggy Sue Got Married", she goes back to the year 1960.
Yet her dad's new car (complete with new car sticker) is a 1958 Edsel...

Likewise, in the Andy Griffith Show episode, "The Return of Barney Fife", Barney drives into Mayberry in his stock turquoise 1958 Edsel convertible. Andy asks him if the car is a 1961 model, and Barney replies, "It's a '60 but it has a '61 grille". (Huh?!)

Perhaps not surprisingly, Don Knotts is the current record holder for appearing in the Most Edsel Reference projects (3: The Andy Griffith Show, The Ghost and Mr. Chicken, and How to Frame a Figg.)

In "Pee-Wee's Big Adventure", Pee-Wee Herman "drives" his '59 Edsel convertible while the gear shift is clearly in Park.

Is it coincidence that the same team of Robert Zemeckis/Bob Gale/Steven Speilberg
promoted the 1958 and 1959 Edsels in both "Used Cars" and "Back to the Future II"?

And what's up with the Edsel-bashing over at Nickelodeon?? There are now at least three references to cartoon Edsels that are lemons. Granted, nearly every Edsel owner has experienced the performance (or lack thereof) of these cartoon models, but it still stings..
---
Behind the Scenes
As of September 2006, the Edsel used briefly in Back to the Future II is on display in the Universal Studios (California) Backlot Tour.
Edsel owner Jere Gauss submits:
"I don't know the exact air date, but I think it was some time around 1991-1992, America's Funniest Home Videos ran about a three second segment of me and my 5-year-old daughter Gennie in the front seat of my Pacer convertible, top down, up on jack stands, singing along with Chuck Berry's "No Particular Place To Go". Fellow Edsel owners Phil Skinner and Jeremy Janss participated in the filming, with Phil behind the camera, and Jeremy on a creeper with his legs sticking out from under the Edsel, a transmission on the ground next to him. I still have the original 8-mm video copy from the shoot (because I paid them $3 to send it back), and I still have the "America's Funniest Home Videos" t-shirt they sent me as well!"

Jere also provided more details of the Starsky & Hutch Edsel episode:

"There was a two-part episode of the Starsky and Hutch TV series, which aired on September 25, 1976 (production code 23), Episode 2X24, where the pair was driving a Citation convertible around Las Vegas. The Edsel was owned by Ralph Cantos from Los Angeles, and the production crew was pretty rough with it. I can remember Ralph complaining about the damage they inflicted!
Ralph also rented this car to the company that produced the hour-long drama/comedy Eight is Enough. The car appeared being driven into the family's Sacramento driveway by the oldest son. Episode and air date unknown for the moment."

And details behind 1985's Pee Wee's Big Adventure:


Fellow Southlander Max Miller provided his cars to the film (both the main 1959 convertible and the background '58 Citation convertible with the CA license "MAXS 58"). Jere sold a fired ceramic 1959 Edsel convertible to this production company after they called about providing them with a miniature of Max's 1959 Corsair.
"Evidently, there was some consideration of filming the driving-off-a-cliff sequence with a scale model Edsel. What they eventually used was Max's car with the convertible top removed, so my ceramic Edsel ended up on a properties shelf somewhere at Warner Brothers, I suppose. The ceramic Edsel was a table center piece from the 1983 Portland EOC meet banquet."

The Munsters was famous for using the Edsel as a punchline over and over. But Greg S. reports one "near-Edsel experience" that came too close to libel, and had to be changed from the original script:

In the episode of the Munsters, "Will Success Spoil Herman Munster?", Grandpa describes his "Nothin' Muffins":
"One time in Detroit, I made up a batch for this fellow. Next day he sat down and designed the Essex".

The Essex was an antiquated and obscure reference even in the mid-1960s, and there is no evidence to suggest the Essex was a failure or a joke. But unlike the other Edsel references in the series, this one targeted the car's designer. And since he was still very much alive, the line had to be changed or they could be looking at a lawsuit!

From George Pics:

"I was in Italy and at the Noir in Festival I saw an absolutely stunning red 1958 Pacer convertible with a protagonist role in the movie called Malabana. I know that the movie will be shown at the New York International Independent Film and Video Festival in February 2002. I emailed the producers at labola@mail.com and they sent me a picture of it; they told me they have more Edsel pictures.
FYI the movie is shot in Cuba, and the Edsel is Cuban!"

See more shots of the "La Leggenda di Al, John e Jack" Edsel here.

Jack Randall Earles writes in with the story behind "The Francis Farmer Story":


"On the This Is Your Life classic series, Frances Farmer is indeed presented with a 1958 Edsel Pacer. "You'll be a busy gal, Frances, dashing from interview to interview. Pace [home permanent company] and the Ford Motor Company want to give you this brand new 1958 2-door Edsel Pacer. With its ease of handling, style, and above all dependability, this car will get you where you want to go. It's yours to drive home tonight." [If you can get it started -JRE]
She drove it until 1963, usually shifting into reverse when she tried to blow the horn on Illinois Street in Indianapolis where she lived. She got into an accident and locked bumpers with another car in front of her home causing quite a ruckus, and usually took up two parking spaces in the lot of WFBM-TV where she worked."

January 2004: The debate rages on about the Edsel used in the Don Knotts film, "The Ghost and Mr. Chicken". Apparently the story goes that the car lived its life in some Hollywood storage and made it's way out to Utah where it's still looking fresh from the showroom floor. But some have pointed out that the car in the film is a Citation 2-door with a brown interior, Charcoal Brown body and scallop and Chalk Pink roof. The Utah car is a Corsair with red body and roof, white scallop and red interior. The investigation continues...

In addition to starring in "This Boy's Life" and appearing in "Dog Fight", the owner of this green & white 1959 Villager, Ron Osborn writes in with more:

"My car was also used in a VH-1 video, a few years back. The song was called "Along for the Ride" sung by a local musician named Danny O'Keefe. It shows my '59 broken down alongside the road, with a gorgeous girl looking for help, and Danny pulls up in a '56 T-bird and offers her a ride.

Naturally, they leave the Edsel..."

Notes from E475JETAIR@aol.com:

My '59 Edsel was in JFK 4 days, but did not appear in the final cut. Most recently Marla Trump drove my Edsel in the TV series The Big Easy. After her driving scene, there was another scene with a body in the trunk. The actor was glad my Edsel had a big trunk! All this has been done in my 59 Ranger which is a race car. The world's fastest 59 Edsel. Just 2 weeks before Marla Trump drove it, I won a bracket race in Tulsa. Best 1/4 mile elapsed time: 11.83 @ 112 M.P.H.

Notes from Ron at toyshop@wans.net:

My Ember Red, White and Black 1958 Pacer 2-door was in the opening scene of the movie Cadillac Jack & Ponder, about a rodeo cowboy framed for murder. It starred Clint Black and Lisa Hartman. This TV movie was filmed in November 1997 and aired in March 1998 on the Sunday Night Movie. Also, my 1966 Ford Galaxie 2-door was in the movie, too.

---

Special thanks to Eric Anderson, Jeff Boster, Christopher Brame, and Nicholas Morton for many of the obscure ones (with vidcaps!), Gary Gilmore for the video clips, Jere Gauss for timecode-level video analysis, Larry Fish for inspiring the Music Industry category, Phil McGuire for inspiring the TV Game Show category, Ken Baltitas for inspiring the Internet Video category, Tom Hatfield for inspiring the Video Game category, Dale & Linda Milliman, Doug Rands, Terie Hipple, Alan Humphrey, Andy Peters, and Scott Snider for an increasing number of new sightings, and Alison Organ for checking in from the UK with many more. Thanks also go to Dave Lee for coming up with missing titles, and Tom Champion for the original list of Edsels in Film.

Much appreciated are the eagle eyes of Jay Lehr, Rick Hawkins, Frank Fisher, Jimmy Bowman, Ry Henry, Patrick Kusek, Bruce Waymire, Roxanne Newmark, Robert Beyer, Patrick Webb, Ron Markman, Jan Rieber, Matthew Quinn, Rick Crosby, Lyle Thompson, Warren Frederickson, Cathal Boylan, Mike Doyle, Rick Potter, Marty Larson, Melanie Bremberg, Jimmy Edsel, Salvatore Della Volpe, Eric Belrose, Robert Lindholm, Greg S., Estil Townsend, Bill Krieger, Robert Williams, Matt McLaughlin, Dave Ellsworth, Len, Dan Dubuque, John Kreuz, Xeno Foxx, Percivale Porter, George Caswell and Allan Bogh. Thanks also to Billy Apgar for the details on his "This Is Your Life" car, to Paul Sakrison for the digitally-enhanced Back to the Future Edsel, and to Eric Nelson who pointed out that Skylab is not in the Blue Note Bar (although it seems in hindsight more of a failed venture than Hubble), and to Mike Renaut for analyzing the Devo crash footage for correct makes/models.

If you know of more references to Edsel on film or video, please contact admin@edsel.com today!

---

Game show answers:

Greed: Beetle-Corvette-Edsel-Eldorado
Super Password: Edsel (Sure it's easy when you have all the clues!)
Weakest Link: (The contestant responded "Edsel" without missing a beat.)
Millionaire: Corvair (But Edsel was one of the answers to choose from.)