X8SX708516 <!- 57A ELL D 20J 4 A -->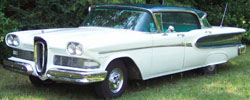 Dataplate specifications
Corsair, 4-door hardtop, Frost White with Spruce Green Metallic
Green vinyl and cloth interior

"E-475" 410cid 345bhp V8, Teletouch automatic transmission, 2.91:1 axle ratio
Edsel number 708516 manufactured in Somerville, MA on September 20, 1957
---
Information as of: May 2003

Owner: Billy Apgar <!- formerly Edsel1958@hotmail.com -->
Location: Conroe, Texas
Owned since: December 28, 2001 Mileage: 50,000
Condition: In restoration
Originality: Factory original Accessories included: Clock, Wheel covers, Compass, Back-up Lights, Windshield Washer, Power Brakes, Power Steering, Two-Tone Paint Notes:
The car now has a Compass, T/C radio and spinner hub caps. It's got about one month to being done and back on the road.

Photos of this car are available on the web, at ejh1978.tripod.com/edsedselrestorationpage/id11.html

Information recorded in March 2002:
This car is from California. I'm the third owner.
This car has been sitting for 32 years. It was won off of the TV show "This Is Your Life" by a guy from Long Beach, CA. The second owner got her when she was 4 years old.
And at 44 years old, she found a good home and someone to love her. So guys get ready. We will be on the road before too long!

If you have more information on this car's past, please contact the owner.
---
Information as of: November 2001

Owner: Steven Martin
Location: unknown
Owned: 1963 - 2001 Mileage: unknown
Condition: Not Running but salvageable
Originality: unknown Accessories included: unknown Notes:
The car has sat in a garage for the past 30 years, and has not been driven. The body has some rust, the interior in in very good original shape - no tears!
---
Information as of: 1958

Owner: Harry Momita
Location: Long Beach, California
Owned since: May 21, 1958 Mileage: 0
Condition: New
Originality: unknown Accessories included: unknown Notes:
Presented by the television show, "This Is Your Life", to Harry for being "a Japanese immigrant with an unwavering devotion to the United States of America".
---
©2009 Edsel.com All Rights Reserved