X8WY705090 <!- 76B AAA AD D24 4 A -->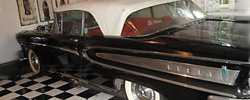 Dataplate specifications
Citation, convertible, Jet Black
Red and White vinyl interior

"E-475" 410cid 345bhp V8, Teletouch automatic transmission, 2.91:1 axle ratio
Edsel number 705090 manufactured in Wayne, MI on April 24, 1958
---
Information as of: August 2008

Owner: unknown (online auction car)
Location: Long Valley, New Jersey
Owned since: 1986 Mileage: 85,000
Condition: Runs, needs some drivetrain work
Originality: All parts are factory authentic for the car Accessories included: Teletouch Automatic Transmission, Radio, Power Antenna, Power Steering, Power Seats, Power Brakes, Power Windows, Wheel Covers with Spinner, Spotlight Notes:
First time offered, only the second owner. Until recently, I've driven this beauty on weekends, typically in the spring-fall and enjoyed taking it to local shows / events and it's always been a pleasure to drive. I haven't had the opportunity to take this beauty out much over the past 1.5 years so it's in need of some TLC. It starts and runs fine, however, it needs either a rebuild of the park relay and/or shifter motor to get it into gear. The transmission is fine, but since it's been sitting, the brushes in the relay motor might have dried out, etc. I had them all rebuilt about 4 years ago through the Edsel club for less then $500.

I'm far from an expert on antique cars, and bought this car from the previous owner to just drive and enjoy and had maintenance performed as needed through the years to ensure it's reliability.
As for the TLC, the power top is "lazy" (needs a boost to get it up/down), the radio needs a tube?, brakes need to be adjusted from sitting and probably need some muffler work and a tune-up. As mentioned, it does run fine currently, but to be safe, it will need to be trailered to ensure a safe journey. The black paint shines real well and the chrome is excellent (only the back center bumper has some chrome missing, perhaps from an old bumper sticker). This is a real head turner and a super rare car in really great shape. I have the title.
---
©2008 Edsel.com All Rights Reserved