X8WW704033 <!- 63B UUU AB L6 4 A -->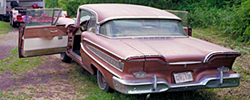 Dataplate specifications
Citation, 2-door hardtop, Copper Metallic
White vinyl/Copper cloth interior

"E-475" 410cid 345bhp V8, Teletouch automatic transmission, 2.91:1 axle ratio
Edsel number 704033 manufactured in Wayne, MI on November 6, 1957
---
Information as of: December 2002

Owner: Christopher Whalen
Location: New York, New York (The car is stored in Frenchtown, New Jersey.)
Owned since: September 17, 1988 Mileage: unknown
Condition: Salvageable
Originality: Stock, with some updated parts (see notes) Accessories included: Power steering, power brakes, power windows, power seat, whitewall tires, signal-seeking radio, padded instrument panel and visors, heater, back-up lights, windshield washer, and undercoating.
This is what is written on the original sales receipt, which was included with the car when I bought it. It also has tinted glass, which was not written on the receipt. There may be other options that it has, too, that were not written on the receipt, but I have not discovered them, yet. Notes:
Began mechanical restoration in 1989 -- transmission rebuilt, new leaf springs installed, engine removed from car for rebuild. I had to stop there, plan someday soon (read "this decade") to begin on it again. The car was repainted some time before I took ownership of it, but (I was told, do not know it to be true) 1957 DeSoto copper metallic, not 1958 Edsel copper metallic.

I have the original sales receipt and Authorized Edsel Dealer's Service Policy for this car. It's original owner was a woman named Eleanor Flynn who lived on St. John's Road in Ridgefield, Connecticut. She ordered it October 24, 1957, from Bragg-Edsel, Inc. in Danbury, Connecticut, and it was delivered to her on November 12, 1957. The car cost $4,865 and she was charged $100.95 tax. She traded in a 1953 Lincoln four-door sedan (model 73B, engine no. 53WA-19501H) for the Edsel. Bragg Edsel gave her a $1,500 trade-in allowance on the Lincoln, and her total cost for the Edsel was $3,465.95.

I remember seeing this car being driven toward New York one time on the Merritt Parkway in Connecticut in the early 1980's when I was headed in the opposite direction going to New Haven. I don't know for sure who the owner was then, but I believe there may have been only one after Eleanor Flynn and before the man from whom I bought it in '88, James van Duyne in Stratford, Connecticut. I believe I'm the fourth owner of the car.

I believe that the second owner, the man I saw driving it on the Merritt Parkway, sold it to buy a turquoise-and-white '58 Corsair four-door hardtop in better condition. I talked to him once at an old car show to which he had taken the Corsair. I've forgotten his name. He told told me that Eleanor Flynn was a school teacher.
---
©2012 Edsel.com All Rights Reserved