X8WY701745 <!- Trim JJ? -->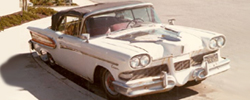 Dataplate specifications
Citation, convertible, Frost White with Ember Red
Red and White vinyl interior

"E-475" 410cid 345bhp V8, Teletouch automatic transmission, 2.91:1 axle ratio
Edsel number 701745 manufactured in Wayne, MI on September 19, 1957
---
Information as of: October 2016

Owner: Don Gill-More
Location: Kent, Washington
Owned since: August 1960 Mileage: 098638
Condition: Drives, but needs restoration
Originality: Custom front clip, plexiglas hood, 1959 engine block Accessories included: Dial-Temp Heater/Defroster, Teletouch Automatic Transmission, Town & Country Radio, Power Steering, Power Seats, Power Windows, Power Brakes, Whitewall Tires, Wheel Covers with Spinner, Tinted Glass, Two-tone Paint, Rocker Panel Mouldings, Tachometer, Electric Clock, Padded Dash and Sun Visors, Positive-Action Windshield Wipers, Windshield Washer, Front & Rear Bumper Guards, Padded Sun Visors, Oil Filter, Extra Cooling Fan, Heavy Duty Battery, Paper Air Cleaner, Dual Exhaust, Carpet, Hooded Side Mirror, No-Glare Rear-view Mirror, Courtesy Lights, Back-up Lights, Luggage Compartment Light, Glove Box Light Notes:
Some cars come from the factory with a "hot" engine. This car was one of them!
It often did 135 mph on the stock engine. That's by the tachometer since the speedometer quit turning at 128 mph. With a homemade solid lifter conversion, it did 155+ through a set of timing traps (and that is when the original 410ci engine threw 2 rods through the block at 7,000+ rpm). The solid lifter conversion was inspired by the California Highway Patrol Mercury's that had an Iskenderian kit in them, and some had 2x4bbls - probably Edelbrock since only 400HP Holley Tripower was offered on Mercury (or any MEL engine) by FGoMoCo. No one seems to remember these CHP cars, BUT, I drove one, WOW!!, at a salvage yard in Yakima, WA in 1960 when they had been surplused by CHP. The first Detroit SuperStock that could barely beat that car, was a 1961 Plymouth 413ci Crossram SS.
I still have the homemade solid lifter kit! When I lived in San Francisco in 1961, the cam was ground by a 70+ year old Ed Winfield Sr.

Data Plate Trim Code is "JJ" (not listed in factory manuals ID pages), which is a white/red interior, as it is on several other white/red "JJ" Ciitation convertibles. It has a customized front clip, plexiglas hood, and a 1959 Lincoln 430 engine block. The formed plexiglas hood was installed in 1961. The three parts to restore the front clip to original, have been retained over the years.

The car's original owner was Chuck Churn, a pitcher for the Spokane Indians - a 'farm club' of the Los Angeles Dodgers. I bought it in August 1960 from Empire Lincoln-Mercury, in Spokane, WA.
---
Information as of: October 2016

Owner: Chuck Churn
Location: Spokane, Washington
Owned: New - August 1960 Mileage: 0
Condition: New
Originality: New Accessories included: Dial-Temp Heater/Defroster, Teletouch Automatic Transmission, Town & Country Radio, Power Steering, Power Seats, Power Windows, Power Brakes, Whitewall Tires, Wheel Covers with Spinner, Tinted Glass, Two-tone Paint, Rocker Panel Mouldings, Tachometer, Electric Clock, Padded Dash and Sun Visors, Positive-Action Windshield Wipers, Windshield Washer, Front & Rear Bumper Guards, Padded Sun Visors, Oil Filter, Extra Cooling Fan, Heavy Duty Battery, Paper Air Cleaner, Dual Exhaust, Carpet, Hooded Side Mirror, No-Glare Rear-view Mirror, Courtesy Lights, Back-up Lights, Luggage Compartment Light, Glove Box Light Notes:

---
---
©2016 Edsel.com All Rights Reserved