X8WY700123 <!- FE T H6 4 A -->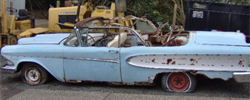 Dataplate specifications
Citation, convertible, Powder Blue with Frost White
White and Gold vinyl interior

"E-475" 410cid 345bhp V8, Teletouch automatic transmission, 2.91:1 axle ratio
Edsel number 700123 manufactured in Wayne, MI on August 6, 1957
---
Information as of: December 2010

Owner: J. Wilson
Location: Hemet, California
Owned since: November 2010 Mileage: 96,000
Condition: Not Running but salvageable
Originality: All parts are factory authentic Accessories included: Dial-Temp Heater/Defroster, Teletouch Automatic Transmission, Town & Country Radio, Power Steering, Power Brakes, Whitewall Tires, Wheel Covers, Padded Dash and Sun Visors, Two-tone Paint, Compass, Electric Clock, Windshield Washer, Front & Rear Seat Foam Cushions, Front Bumper Guards, Padded Sun Visors, Oil Filter, Dual Exhaust, Carpet, Hooded Side Mirror, No-Glare Rear-view Mirror, Courtesy Lights, Back-up Lights, License Plate Frames, Engine Compartment Light, Luggage Compartment Light Notes:
Car is all original but will require full restoration which will begin in the near future. This car is an early model and has a very unusual color combination of blue/white with gold interior.
---
Information as of: November 2010

Owner: unknown (online auction car)
Location: Coos Bay, Oregon
Owned since: unknown Mileage: unknown
Condition: Salvageable
Originality: unknown Accessories included: Radio, Power Brakes, Two-tone Paint, Front & Rear Bumper Guards, Back-up Lights Notes:
Early production car. In need of complete restoration. A lot of work and far from perfect. Approximately 90% complete. Has rust in the floors, trunk, driver's side rear quarter and rocker panels. Rear seats and some trim is missing. Frame has rust on the driver's side. No title.
---
©2010 Edsel.com All Rights Reserved