A9UF744560 <!- Second line -->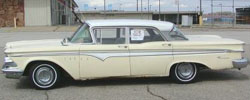 Dataplate specifications
Ranger, 4-door sedan, Redwood Metallic
Buff vinyl/gold cloth interior

223 Econo-Six, 3-speed manual transmission
Edsel number 744560 manufactured in Louisville, KY
---
Information as of: March 2006

Owner: unknown (online auction car)
Location: Boulder, Colorado
Owned since: 1996 Mileage: 52,455
Condition: Drives, but needs restoration
Originality: New paint scheme Accessories included: Radio, Power Steering, Wheel Covers, Windshield Washer Notes:
Now yellow with white roof/side trim. Beautiful car and I hate to get rid of it but I'm moving half way across the country and I'm not taking it with me. Runs very well except recently the radiator needs to be replaced - otherwise it overheats after 10 minutes.
Rebuilt clutch about 1 year ago, rebuilt transmission about 6 years ago. I've had this car for about 10 years now. Has all of it's original chrome. It really wants to be restored, but you could use it for parts if you must. Two spots of bondo on bottom passenger side. Passenger side front window cracked. Little hole in the trunk.
---
©2006 Edsel.com All Rights Reserved