A9UF744508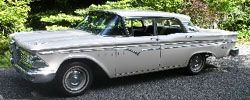 Dataplate specifications
Ranger, 4-door sedan, Desert Tan
Silver vinyl/black cloth

223 Econo-Six, 3-speed manual transmission, 3.56:1 axle ratio
Edsel number 744508 manufactured in Louisville, KY on August 25, 1959
---
Information as of: May 2010

Owner: unknown (online auction car)
Location: Portland, Oregon
Owned since: unknown Mileage: 72,531
Condition: Drives well, needs minor restoration
Originality: Stock, with some updated parts Accessories included: Back-up Lights Notes:
Very rare "delete-option" Ranger Six with 223cid, delivers 20 MPG. 72K original miles.
Original Texas car with virtually no rust. 3-speed manual transmission was reconditioned and the clutch replaced 2K miles ago at a cost of $1500. Motor rebuilt 600 miles ago at a cost of $4000. I have receipts.
Vintage 1959 Edsel maintenance manual. Entirely original inside. Highly original overall - still has the factory grease-pen marks in the driver's door jam. The most basic, non-optioned car you will ever find. This car does not even have an exterior rear-view mirror. Unmolested, unabused, time-warp machine.
---
Information as of: March 2007

Owner: Greg Zarelli
Location: Portland, Oregon
Owned since: January 1982 Mileage: 76,000
Condition: Drives well, needs minor restoration
Originality: Stock, with some updated parts Accessories included: Back-up Lights Notes:


<!- P HR P --> <!- A HREF= http: www.vector11.com/edselcom/gallery/e59/e59744508.jpg Gallery Link /A --> <!- P HR P -->
---
©2010 Edsel.com All Rights Reserved