B9UT742032 <!- 71F EE 31 13G 3 1 -->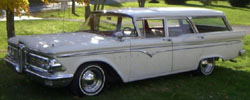 Dataplate specifications
Villager, 6-passenger wagon, Snow White
Blue vinyl/Gold cloth interior

332 Express V8, Mile-o-matic 2-speed transmission, 3.10:1 axle ratio
Edsel number 742032 manufactured in Louisville, KY on July 13, 1959
---
Information as of: November 2006

Owner: unknown (online auction car)
Location: Carlisle, Pennsylvania
Owned since: unknown Mileage: 64,046
Condition: Runs and drives very well
Originality: All parts are factory authentic for the car Accessories included: Radio, Wheel Covers, Spotlight Notes:
This rare original station wagon in really good shape. This is a good daily driver with a little over 64,000 original miles.
This car has been stored in a climate controlled room for over 20 years. This unit was part of a well-known Edsel collection in the central Pennsylvania area by a well-known Edsel dealer. It is not perfect but it is a great collector piece. Not much is needed to get this car in pristine condition.

What it needs: There is some wear (frayed) on the red interior window lining, and a ding on the upper left corner area of the tailgate, not bad but noticeable. There is wear on the red interior area of the tailgate, and part of the red vinyl is missing from loading and unloading cargo. Slightly crumpled rear bumper.
---
©2006 Edsel.com All Rights Reserved