A9UF741511 <!- Second line -->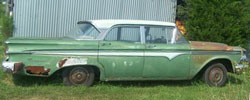 Dataplate specifications
Ranger, 4-door sedan, Mist Green with Snow White
Green vinyl/green cloth interior

223 Econo-Six, Mile-o-matic 2-speed transmission, 3.56:1 axle ratio
Edsel number 741511 manufactured in Louisville, KY
---
Information as of: August 2006

Owner: unknown (online auction car)
Location: Kentucky
Owned since: unknown Mileage: 15,427
Condition: Not Running but salvageable
Originality: unknown Accessories included: unknown Notes:
This would be a great fixer upper. All this car needs is a loving home and a little TLC. This car was pulled outside in January 2006. It was kept under a shelter before that. We did have this car running this week off of a fresh tank of gas (we bypassed the car's main tank because we were afraid of the old gas that is still in there.) All cylinders ran free and fine. We did not try to drive the car so I am not sure about the transmission but the last guy to drive it says it ran smooth. We know that this car has not been driven since 1989. The title says it is a 1958 but it is a 1959. Mileage is actual.
---
©2006 Edsel.com All Rights Reserved