A9UF741098 <!- 58D MM 24 29F 1 2 -->
Dataplate specifications
Ranger, 4-door sedan, Jet Stream Blue
Blue vinyl/blue cloth interior

223 Econo-Six, 3-speed manual transmission, 3.10:1 axle ratio
Edsel number 741098 manufactured in Louisville, KY on June 29, 1959
---
Information as of: March 2016

Owner: Allan Benavidez
Location: South Lake Tahoe, California
Owned since: 2015 Mileage: 56,493
Condition: Daily driver
Originality: All original, with one repaint years ago Accessories included: Lever-Temp Heater, Radio, Clock, Dual Hooded Mirrors, Electric Wipers, Windshield Washer, Back-Up Lights Notes:
Originally an Arizona car, my uncle John Fowlie bought it with a group of cars and it lived in Williams, CA at his wrecking yard. He fixed it up and gifted it to my cousin Kristina Maples for her 18th birthday. But due to school, it sat in storage and then her driveway for 6 or 7 years, until last year when I convinced her to let me give Ethel a home where she would be loved and driven.

I went through and got everything mechanically sound again, and it's been my daily driver since. With the exception of one repaint years ago, where someone added white making it a two tone car, it's all original. Headliner, carpet, etc. Seats have some wear but not bad for a car of its age. It's my only car, and has been nothing but reliable AND economical too! Love that 6cyl.
I have since been fixing up everything as I drive her, and she takes me everywhere. Down to Reno, down to central CA, all over. She now has a permanent home and will eventually get a restoration.
---
Information as of: July 2013

Owner: Kristina Lee Maples
Location: Ventura, California
Owned: February 2009 - 2015 Mileage: 57,209
Condition: Runs and drives, needs brakes bled and a few other tune ups
Originality: All parts are original, unrestored (as of yet) Accessories included: Clock Notes: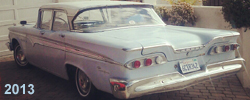 Incredibly, this Edsel was GIVEN to me by my uncle, John Fowlie of Big M Automotive, for my 18th birthday in 2009. He runs an astounding business - one of the largest classic car dismantlers there is ANYWHERE in the world.
Since I was a child, going to visit my Uncle John was an amazing adventure I always looked forward to - nearly a thousand pre-1970s classic cars, some in good condition, some rusted shells of their former selves, and everything in between - made up what he called "home" and "the office". From an early age these visits and a bond with my uncle helped me gain a love and appreciation for the history behind classic cars. A 1959 Edsel Ranger four-door sedan, Jet Stream Blue, was decided upon to help begin my foray into the world of Americana and automotive history.
Unfortunately, I was set to go off to college on the East Coast by the time I was gifted the Ranger, so Ethel has had to sit, relatively untouched, for the last 4 years while I was away working on my degree. Now that I'm home, I hope to begin restoration on my car (as soon as I can find a job!) Drop in and see the wonderful world of Big M Automotive at bigmauto.com for a glimpse of one of the best pieces of classic car history in America.


Gallery Link
---
Information as of: July 2003
Owner: unknown (online auction car)
Location: Sedona, Arizona
Owned since: unknown Mileage: 55,432
Condition: Drives well, needs minor restoration
Originality: All parts are factory authentic for the car Accessories included: unknown Notes: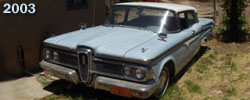 This 1959 Ranger is a two-owner "Arizona Car" which means it's lived in a salt-free and almost rain-free environment. That's the perfect Rx for long life and great condition in a collector car ready for restoration! With only 55K original miles, the beefy 200 hp in-line 6 cylinder engine and trouble-free 3-speed manual transmission are in perfect working condition.
Everthing on this car is original. Outside the paint is a little faded, the chrome could use a little attention, the driver's side window has a small crack, and the winshield has a small stone chip, but you wouldn't guess this car has seen over 44 years of service. No dents or mishap body damage anywhere. The tires are good to OK.
Inside the upholstery, carpet, and dash is original. No serious damage, just the expected aging and driver's side wear. Seat covers were used, so upholstery is in pretty good shape.

---
©2016 Edsel.com All Rights Reserved