B9UV740469 <!- Second line -->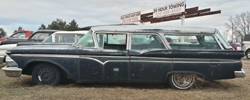 Dataplate specifications
Villager, 9-passenger wagon, Jet Black


332 Express V8
Edsel number 740469 manufactured in Louisville, KY
---
Information as of: March 2017

Owner: Interstate Auto
Location: Clearwater, Minnesota
Owned since: unknown Mileage: unknown
Condition: Not Running but salvageable
Originality: unknown Accessories included: unknown Notes:
Submitted by Matthew Elliot:
The car needs restoration badly, upholstery is in very bad shape. As I understand it, the Edsel was acquired via auction from California. I see the vehicle daily as I drive my route, finally got around to inquiring about it and spent all last week researching it and a few other classics in desperate need of restoration. The VIN/Serial was deciphered incorrectly as the first letter "B" was mistaken for an "8" on what is officially transcribed on the title.
---
©2017 Edsel.com All Rights Reserved