W9UV738510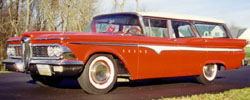 Dataplate specifications
Villager, 9-passenger wagon, President Red with Snow White
Red vinyl/Gold cloth interior

361 Super Express V8, Dual-Power 3-speed transmission, 2.91:1 axle ratio
Edsel number 738510 manufactured in Louisville, KY on May 27, 1959
---
Information as of: October 2000

Owner: Ronald A. Shidaker
Location: Wilmington, Ohio
Owned since: April 1995 Mileage: 103,000*
Condition: Drives well
Originality: All original except for battery and tires Accessories included: Dual-Power Drive Trans, Power Steering, Dial-Temp Heater and A/C, Back-Up Lights, Push-Button Radio, Full Wheel Covers and Electric Clock Notes:
*Has been driven only 4000 miles between 1979 and September 2000.
The original color was repainted over 20 years ago. I have owned the car since April of 1995, and my father-in-law in Arkansas owned it for 16 years prior to that.
---
©2007 Edsel.com All Rights Reserved