A9UF738383 <!- Second line -->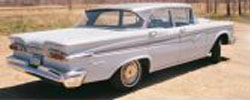 Dataplate specifications
Ranger, 4-door sedan, Jet Stream Blue with Gray
Blue vinyl/blue cloth interior

223 Econo-Six, 3-speed manual transmission
Edsel number 738383 manufactured in Louisville, KY
---
Information as of: September 2002

Owner: unknown (online auction car)
Location: Fridley, Minnesota
Owned since: unknown Mileage: 46,000
Condition: Drives well, needs minor restoration
Originality: All parts are factory authentic for the car Accessories included: Standard Radio, Wheel Covers Notes:
This vehicle is in drive away condition, ready for a coast to coast road trip. The braking system has been rebuilt with new shoes and new cylinders on all four wheels and the brake lines flushed. This vehicle starts with ease and runs smoothly with no leaks. All parts are original and in working order. No chips, crackes or flaws in the glass. Interior upholstery is in near new condition, having been covered until just recently with fingerhut seat covers.
There are small spots of rust around the wheel wells, and two small scratches on the passenger door. The title is clear.
---
©2002 BE All Rights Reserved