B9UT737076 <!- Second line -->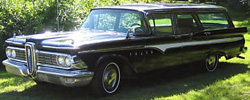 Dataplate specifications
Villager, 6-passenger wagon, Jet Black with Snow White
Green vinyl/green cloth interior

332 Express V8
Edsel number 737076 manufactured in Louisville, KY
---
Information as of: July 2008

Owner: unknown (online auction car)
Location: Prospect Heights, Illinois
Owned since: unknown Mileage: 153,642
Condition: Runs and drives well
Originality: All parts are factory authentic for the car Accessories included: Radio, Power Steering, Wheel Covers Notes:
A nice very original 1959 Edsel station wagon. This car is not mint but for a car that seems mostly original you will not find much better. Runs and drives great, very nice to use for cruse night. The car has had some paint work but it looks like mostly original.
---
©2008 Edsel.com All Rights Reserved