A9UT736825 <!- Second line -->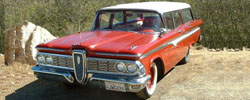 Dataplate specifications
Villager, 6-passenger wagon, President Red with Snow White
Red vinyl interior

223 Econo-Six, 3-speed manual transmission
Edsel number 736825 manufactured in Louisville, KY
---
Information as of: April 2003

Owner: unknown (online auction car)
Location: San Bernadino, California
Owned since: unknown Mileage: 60,000
Condition: Runs well, needs minor restoration
Originality: Non-Edsel engine, new interior Accessories included: Standard Radio, Whitewall Tires, Wheel Covers with Spinner Notes:
Newer red/white vinyl seat covers. Exterior body solid (no Bondo) and paint good except slight rusting at roofline above windshield, rear window and hood. Carpeting good throughout except some sun fading in rear. Rear seat folds forward for over six feet of cargo space. Chrome very good overall. 1964 Ford 351 cu. V-8 replaces original engine. Column shift. Original wheel covers.
This vehicle is not currently registered but is in good running condition and located in the L.A. area. Photo album of original restoration included.
---
©2003 BE All Rights Reserved