B9US736516 <!- 58B RE1 53 08E 3 5 -->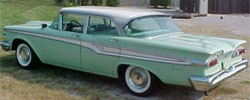 Dataplate specifications
Corsair, 4-door sedan, Mist Green with Snow White
Green vinyl and cloth interior

332 Express V8, Mile-o-matic 2-speed transmission, 2.91:1 axle ratio
Edsel number 736516 manufactured in Louisville, KY on May 8, 1959
---
Information as of: June 2004

Owner: unknown (online auction car)
Location: St. Louis, Missouri
Owned since: 2003 Mileage: 160,449
Condition: Drives very well
Originality: All parts are factory authentic for the car Accessories included: unknown Notes:
It is in very good condition for 45 years old and shows it's good care. The automatic transmission was rebuilt 2 months ago. It has wide whitewall tires in good condition.
I was told when I bought it, it was used as a prop car in the popular television series "American Dreams". It spent it's life (until I bought it) in Oregon and southern California, which explains it's solid body. The interior shows very well and I believe it to be totally original. Original paint and body without rust or panel replacement. It does need a couple of items: New windshield and carpeting. I have the new windshield rubber gasket and I have a new carpet in the box and both go with this car. The only other item I know it needs is a new exhaust system. It has a few dings and paint chips from age, but the body is sound and the stainless and chrome is decent.
---
Information as of: June 2002

Owner: Maurine & Vernon Jette
Location: Shaw (near Salem), Oregon
Owned: May 1959 Mileage: 160,121
Condition: Drives well
Originality: Stock, with some updated parts Accessories included: Power Steering, Radio, Clock Notes:
Original owners. Spent the beginning of its' life in Aumsville, Oregon. Paperwork shows delivery to Dealer code 13063, Seattle district, on May 22, 1959.

It's been stored in a barn since 1969. Some rust on the wheels and hubcaps, otherwise exterior and interior are in good to very good condition.
---
©2004 BE All Rights Reserved