C9UF736500 <!- Second line -->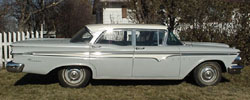 Dataplate specifications
Ranger, 4-door sedan, Moonrise Gray with Snow White
Silver vinyl/black cloth interior

292 Ranger V8
Edsel number 736500 manufactured in Louisville, KY
---
Information as of: February 2003

Owner: unknown (Sold via Adelines Antiques)
Location: Frederick, South Dakota
Owned since: 1961 Mileage: unknown
Condition: Drives very well
Originality: All parts are factory authentic for the car Accessories included: Radio, Hub Caps Notes:
This is a wonderful 1959 Edsel Ranger sedan, that I am selling for a friend. He is the second owner of this car, and bought it in 1961 when it had 19000 miles on it. It is a beautiful automobile for its age. It has been well cared for, and always been shedded. It is all original paint with a few touchups with professionally mixed paint Chrome is in excellent condition and all intact. There is very little rust on this car.

There is a very small amount on the floor, but none goes through. All parts are original. No missing buttons or handles. Every crank, button, or handle works. The doors close nice and solid. No frozen or unmovable parts.

All emblems intact and in place. All hub caps are original, and all glass is original and unbroken.

It has been driven in local parades, and taken for a ride in the country every year since its retirement as the family car in 1965. It now has historical license plates.

The engine starts imediately and really "purrs". I could hardly hear it when he drove it out of the shed to take the pictures.
---
©2003 BE All Rights Reserved