C9UF735425 <!- 58D PE1 501 28D 3 1 -->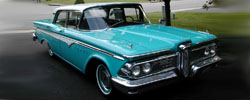 Dataplate specifications
Ranger, 4-door sedan, Dark Aqua with Snow White
Silver vinyl/black cloth interior

292 Ranger V8, Mile-o-matic 2-speed transmission, 3.10:1 axle ratio
Edsel number 735425 manufactured in Louisville, KY on April 28, 1959
---
Information as of: July 2002

Owner: Marty Rendon
Location: Woodbridge, Virginia
Owned since: July 2002 Mileage: 88,795
Condition: Drives well, needs minor restoration
Originality: Stock, with a few modern parts (see notes) Accessories included: Heater/Defroster, Radio, Whitewall Tires, Wheel Covers, Electric Wipers Notes:
I purchased this car from CarsIncorporated.com in Dumfries, Virginia. I saw it on the lot there, where it was being sold on consignment.
The body, trim, and hardware all are in excellent condition. The car was repainted at some point to match the original Dark Aqua with Snow White trim. The interior is in excellent condition, as is the headliner. The clock works, as does the cigarette lighter

The original AM radio works, and an aftermarket Realistic FM/casette tape player was added under the dash. The car has electric wipers, and someone installed a windshield washer.

I recently bought radial wide whitewalls (2-1/2 inch) from Diamond Back in South Carolina. The car only needs some minor interior restoration ("rope" trim around the doors, shelf under the rear window, etc.). The exterior is pretty good, despite some bits of chrome pitting.

The mechanical part is where I need to direct my attention. It suffers from a power steering fluid leak and leaking from the differential. The heavy duty battery fires up the car every time, and the V-8 seems to run well. This definitely is a car that can -- and should -- be driven.

The photo of the car was taken on July 9th, 2002, when I took delivery of it. Since that time, the new tires I mentioned have been installed.
---
Information as of: March 2002

Owner: carsincorporated.com
Location: Dumfries, Virginia
Owned since: unknown Mileage: 88,762
Condition: Show car
Originality: unknown Accessories included: unknown Notes:
From an online auciton:
Very good paint, small pits on chrome.
---
Information as of: March 2002

Owner: Rosario Cracchiolo
Location: Brooklyn, New York
Owned since: unknown Mileage: unknown
Condition: unknown
Originality: unknown Accessories included: unknown Notes:

---
©2002 BE All Rights Reserved