B9UT735246 <!- Second line -->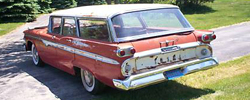 Dataplate specifications
Villager, 6-passenger wagon, President Red with Snow White
Red vinyl/gold cloth interior

332 Express V8, Mile-o-matic 2-speed transmission
Edsel number 735246 manufactured in Louisville, KY
---
Information as of: June 2008

Owner: unknown (online auction car)
Location: Allenton, Wisconsin
Owned since: unknown Mileage: 90,506
Condition: Not Running but salvageable
Originality: Stock Accessories included: Radio, Wheel Covers, Power Steering, Electric Windshield Wipers Notes:
This car has not been driven in about 10 years. In the 90's, it was driven to several IEC meets around the country before being parked. It is a project car and would recommend trailering. The floor boards are going to need repair/replacement. Also the exhaust will need replacing and a couple of the tires lose air. Interior is original. A couple of the headliner panels need fixing/replacing. The car is basically complete. Most chrome, stainless trim, scripts and lenses are there. Missing the fender mirror.
---
©2008 Edsel.com All Rights Reserved