C9UF735123 <!- 58D DD 25 25D 31 -->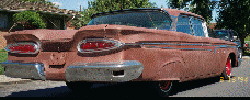 Dataplate specifications
Ranger, 4-door sedan, Redwood Metallic
Buff vinyl/gold cloth interior

292 Ranger V8, Mile-o-matic 2-speed transmission, 3.10:1 axle ratio
Edsel number 735123 manufactured in Louisville, KY on April 25, 1959
---
Information as of: May 2001

Owners: Mark ("Spooky"), Cari'ssa, Sebastian, and Madison Rae Karol-Chik
Location: Wheat Ridge, Colorado
Owned since: 1996 Mileage: 115,000+
Condition: Daily driver in good condition
Originality: Customized (see notes) Accessories included: (See notes) Notes:
My car has been customized. It now sports '59 Impala taillights, door handles have been removed, the grille has been modified by removing the "dashed" chrome pieces, and the stainless piece beneath the front bumper has been body colored. as et of Cal-Custom spotlights from the late 50's have been added on the front fenders near the windshield. Car was originally painted metallic redwood, but is now satin black and pink. Hubcaps are '57 Lancer 4-bars, car sports wide white walls, and factory fender skirts. Dual antenaes are mounted on the back 1/4ers. Steering wheel is a '57 Lincoln unit with a '53 Lincoln center bullet. The rest of the interior is stock. An extra set of front bumpers were mounted on the rear. Car has dual exhausts and a 4-barrel Holley mounted on a '57 T-Bird intake.

Original equipment consists of tinted glass, heater, power steering, 292 V-8, cigarette lighter, windshield washer.

I originally bought the car in '96. It was almost purchased by a member of the Colorado Chapter of the Edsel Owners Club. His intentions were to part the car out then scrap the rest. He offered $300. We offered only $100, but we would put the car back onto the road. It became mine!! I have wanted an Edsel since I was 9 years old. Being a kid born in the era of Hot Wheels and the custom van craze (I was born in 1966), this struck my kid pals as weird. So, the only other things we know of the cars history is that it was a grain salesman's car up in the Portland, Oregon area. It was driven until 1969, then parked after it had been rear-ended. How it got to Colorado is unknown.

I love it. Great car.

This car is on the Jalopy Journal website, the Edsel.com site, Tim's Hepcat Edsel page and the Hot Rod Deluxe website.
---
©2001 BE All Rights Reserved