C9UF734724 <!- 58D AA 255 23D 3 1 -->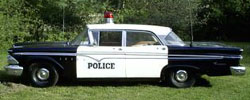 Dataplate specifications
Ranger, 4-door sedan, Jet Black
Buff vinyl/gold cloth interior

292 Ranger V8, Mile-o-Matic 2-speed automatic transmission, 3.10:1 axle ratio
Edsel number 734724 manufactured in Louisville, KY on April 23, 1959
---
Information as of: December 2004

Owner: Tom Sturdivant
Location: Nashville, Tennessee
Owned since: June 2003 Mileage: unknown
Condition: unknown
Originality: Modified - Police Car Accessories included: unknown Notes:
Has the true police package from that year - red light, whip two-way antenna and police two-way radio, siren.
---
Information as of: May 2003

Owner: unknown (online auction car)
Location: Jamestown, New York
Owned since: 1972 Mileage: 80,620
Condition: Runs, needs minor restoration
Originality: Modifed as a Police Car replica Accessories included: unknown Notes:
This Ranger has 80,620 actual miles and has been in storage most of it's life. I bought it in 1972 and drove it to high school, then had it restored into a police car in 1988. This is not an original police car but has all the equipment with it. I had the roof bubble wired in at one time for shows and parades. The light, whip antenna, siren, Motorola 2-way radio head and magnetic police signs are included, as are the 4 original Edsel wheel covers. If you were in Charlottsville, Virginia in 1989 you might have seen it at the Edsel Owners Club national meet where it took first place in the modified catagory. It wouldn't take much to bring it back to that condition.
---
©2005 BE All Rights Reserved