B9US734348 <!- Second line -->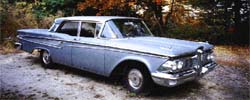 Dataplate specifications
Corsair, 4-door sedan, Star Blue Metallic
Silver vinyl/black cloth interior

332 Express V8, Automatic transmission
Edsel number 734348 manufactured in Louisville, KY
---
Information as of: December 2001

Owner: unknown
Location: West Boyleston, Massachusetts
Owned since: unknown Mileage: 14,723
Condition: Not Running but salvageable
Originality: All parts are factory authentic for the car Accessories included: unknown Notes:
As from appraisal by Gerry Martel Certified Apraiser in Fitchburg, MA (Ratings are from 1 to 5, 1 being the best, 5 being in need of restoration, cosmetic or mechanical):
For the record, this automobile has been stored since 1971. Unfortunately, the storage was in a damp space below a barn and though the Edsel has been minimally driven, it shows wear...
EXTERIOR: Undercarriage straight with much surface rust. Body has no dents however, there is surface rust on the body panels, including hood, roof and fenders. A complete repaint is in order to bring car up to standard. The doors, hood and trunk lid fit properly. The original weather-stripping is dry and will have to be replaced. The chrome bumpers have good shine, but there are areas with surface rust. The other brightwork is clean but tatty. The glass, all around, is blemish-free. The original blackwall tired have to be replace as they have been on the car since new and show sidewall cracks. They are mounted to original wheels with proper Edsel full wheel discs fitted. The trunk is clean with no rust evident. The exterior has to be updated including a repaint and rechroming to be up to standard. Rating 3 to 4 across the board.
INTERIOR: Totally original and close to new. The grey two tone seat covers show no wear. The door panels and headliner comparable. Dash immaculate. All gauges and bezel around them has OEM shine. Steering wheel new. In other words, all that is needed to bring interior up to standard is a good clean up. Car has no radio as it was ordered without same. Interior condition: 2.5
MECHANICS: The V-8 motor is currently not operative. No battery is fitted. From the look of the engine compartment, there is much rust evident around the motor and the entire engine compartment. The brake pedal goes down to the floor. The exhaust system is original and again features much surface rust. The radiator appears not to leak. Electrics? From experience, I believe the motor will undoubtedly turn over with minimum effort once a mechanic follows the usual procedures, replacing spark plugs, checking points, rotor, etc. After that, a major tune up will be in order. There is no spare tire. The paint is original. This car was started last year but has not been turned over since then. The 14K miles are the original and can be documented. Mechanics in Condition 3.5 to 4.
---
©2001 BE All Rights Reserved