A9UT733902 <!- 71F GA1 31 16D 3 2 -->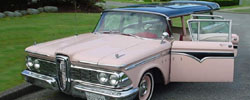 Dataplate specifications
Villager, 6-passenger wagon, Talisman Red (Pink) with Jet Black
Red vinyl/gold cloth interior

223 Econo-Six, Mile-o-matic 2-speed transmission, 3.56:1 axle ratio
Edsel number 733902 manufactured in Louisville, KY on April 16, 1959
---
Information as of: September 2004

Owner: unknown (online auction car)
Location: British Columbia, Canada
Owned since: unknown Mileage: 119,932
Condition: Runs and drives
Originality: Non-Edsel engine colors Accessories included: Power Steering, Radio (in need of minor repair) Notes:
Excerpts from the September 12-22 eBay auction text:

The Villager was imported from Spanaway, Washington state by the second owner and has been maintained as an original classic. Original drivetrain, starts and idles well. Excellent driver.
The wagon front seats have been well maintained and the rears look like new. Like-new door panels, new fuel gauge, sending unit, fuel tank, exhaust. All electrical components work as they should. Vinyl floor is like like new and in excellent shape. The interior components, including dash, door panels and headliner, are all in place and show very nicely. Minor headliner sag.
Body is mostly original. Original glass, except windshield. Minor lower panel surface rust. The paint remains to factory code and at closer inpection you can find a few chips and rust here and there but it still shows very well. Underneath you will find the steering, brakes and suspension all in good order as they have been regularly maintained and kept in great shape over the years. The "dog dish" classic hubcaps are like-new condition.
<!- P HR P --> <!- A HREF= http://www.vector11.com/edselcom/gallery/e59/e604h700452.jpg Gallery Link /A --> <!- P HR P -->
---
©2004 BE All Rights Reserved