A9UC733702 <!- AA 501 15D 1 2 -->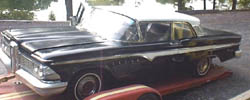 Dataplate specifications
Ranger, 2-door sedan, Jet Black
Silver vinyl/black cloth interior

223 Econo-Six, 3-speed manual transmission, 3.56:1 axle ratio
Edsel number 733702 manufactured in Louisville, KY on April 15, 1959
---
Information as of: May 2002

Owner: HDXR1000@aol.com
Location: St. Louis, Missouri
Owned since: August 2001 Mileage: 87,000
Condition: Drives, needs minor restoration
Originality: unknown Accessories included: Heater/Defroster, Standard Radio Notes:
This rare and unique car is in need of exterior cosmetic restoration. The interior is very well preserved! The car is running and driving, but there is some chatter in the clutch when you first let it out.

The car is relatively straight but has bubbling in the paint in several locations. The car has had what looks like hail damage and several pieces of the chrome are pitted. The bumpers also need replating. Floors appear in good shape. There is some rot under the battery tray. Trunk is very solid without rot. Missing Ranger and Edsel script from passenger side. Mileage is beleived to be actual but titled as mileage exempt because of age.

All in all, a very complete car. I am not that familiar with Edsels but found the car to be a good restoration candidate.
---
©2001 BE All Rights Reserved