C9UF733436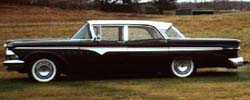 Dataplate specifications
Ranger 4-door sedan, Jet Black with Snow White

292 Ranger V8
Edsel number 733436 manufactured in Louisville, KY
---
Information as of: September 2009

Owner: Camille M. Cyr
Location: Brunswick, Maine
Owned since: March 1992 Mileage: 137,000
Condition: Show car
Originality: All parts are factory authentic Accessories included: Column Automatic Transmission, Standard Radio, Rear Speaker, Power Steering, Power Seats, Whitewall Tires, Wheel Covers, Two-tone Paint, Windshield Washer, Oil Filter, Dual Exhaust, No-Glare Rear-view Mirror, Courtesy Lights, Back-up Lights, License Plate Frames, Fender Skirts Notes:
Frame-on restoration in 1995, engine overhauled about 50K ago, transmission overhauled about 20k ago.

January 2002 Notes (mileage: 115,217)
1999 Award winner, IEC National Convention, Roanoke, Virginia
Bought the car with 68,041 original miles. Paid $2300 and have about $12,000 into it. It averages 4,718 miles per year, and in 2001, 3,358 miles were logged.
---
©2009 Edsel.com All Rights Reserved