C9UF732603 <!- Second line -->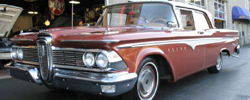 Dataplate specifications
Ranger, 4-door sedan, Redwood Metallic with Snow White
Buff vinyl/gold cloth interior

292 Ranger V8, Mile-o-matic 2-speed transmission, 3.10:1 axle ratio
Edsel number 732603 manufactured in Louisville, KY on 7 April 7, 1959
---
Information as of: October 2009

Owner: Elwood W. Pickhaver
Location: Media, Pennsylvania
Owned since: September 2009 Mileage: 19,300
Condition: Drives well, needs minor restoration
Originality: Stock, with some updated parts Accessories included: Lever-Temp Heater/Defroster, Standard Radio, Whitewall Tires, Wheel Covers, Padded Dash and Sun Visors, Two-tone Paint, Oil Filter, Dual Exhaust, Hooded Side Mirror Notes:
I bought the car on E-bay from a dealer in Chicago, IL. He had just got the car from the previous owner who lived in Wild Rose, WI 54984. I flew to Chicago with a friend and drove the car back home to PA. I had no trouble and the car handled beautifully.
I plan on doing the restoration needed over time, once I learn more about the car.
---
Information as of: October 2008

Owner: unknown (online auction car) <!- Fast Lane Classic Cars, Inc. -->
Location: St. Charles, Missouri
Owned since: unknown Mileage: 18,042
Condition: Excellent
Originality: Underdash gauges added Accessories included: Radio, Whitewall Tires, Wheel Covers, Padded Dash Notes:
Paint has a nice shine quality with some hair-line cracking here and there. The chrome is bright for the most part with some 20% pitting factor on only some of the ornamental trim. The glass is clear and looks like 18,000 mile glass. The body is nice and straight as you would also expect from an original, low mile car.

The car is not perfect cosmetically. The interior is all original, nice and clean but mildly showing signs of age. Nicely preserved headliner, seating areas, carpeting and dash. Nice running engine (with original windshield washer bag, too.)

I like the way this car drives, shifts, handles and brakes. It's easy to drive and fun to be seen in while doing so.

<!- P HR P --> <!- A HREF= http: www.vector11.com/edselcom/gallery/e59/e59732603.jpg Gallery Link /A --> <!- P HR P -->
---
©2009 Edsel.com All Rights Reserved