W9UT732487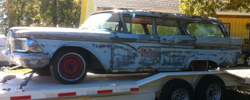 Dataplate specifications
Villager, 6-passenger wagon, Snow White
Red vinyl/Gold cloth interior

361 Super Express V8, Dual-power 3-speed transmission, 2.91:1 axle ratio
Edsel number 732487 manufactured in Louisville, KY on April 6, 1959
---
Information as of: November 2012

Owner: Lester Badeaux
Location: Baton Rouge, Louisiana
Owned since: October 2012 Mileage: unknown
Condition: In restoration
Originality: Modified with non-Edsel components Accessories included: unknown Notes:
The car has been laid up for a few years. Floorpans need to be replaced and the 390FE engine is being redone. Not looking to go back to all-original but build a car I can drive and enjoy.
---
Information as of: July 2001

Owner: Marcel <!- stoubsi aol.com -->
Location: Palm Springs, California
Owned since: unknown Mileage: unknown
Condition: Drives well
Originality: Modified (see notes) Accessories included: unknown Notes:
2000 miles on rebuilt 390 long block engine. New wheel cylinder, brake hose, master brake cylinder, tires, alternator, front wheel bearing, electronic ignition, glove box, transmission oil cooler, thermostat, water pump, heater core, heater hose, door seal, remote door opener, drive shaft u-joints, fan and a/c belt, carburator rebuilt, spark plug wires, door glass anti-rattlers. Do have all original parts.
---
---
©2012 Edsel.com All Rights Reserved