C9UG731879 <!- Second line -->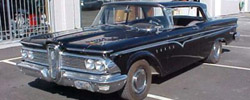 Dataplate specifications
Ranger, 2-door hardtop, Jet Black
Silver vinyl/black cloth interior

292 Ranger V8, 3-speed manual transmission
Edsel number 731879 manufactured in Louisville, KY
---
Information as of: October 2002

Owner: unknown (online auction car)
Location: Salem, Oregon
Owned since: unknown Mileage: 51,465
Condition: Drives well, needs minor restoration
Originality: Modified transmission and linkage Accessories included: Standard Radio, Hooded Side Mirror Notes:
Appears to have the original paint and interior. Now with 4-on-the-floor, very solid floors and rockers. Typical lower rust bubbles in the areas over the wheel wells and lower fenders. Runs and drives good, lights and brakes work.

Radio and speedometer/odometer don't work. What appears to be the original transmission, and hardware is in the trunk.
---
©2002 BE All Rights Reserved