W9US731326

Dataplate specifications
Corsair, 4-door sedan, Redwood Metallic with Snow White
Redwood vinyl and cloth interior

361 Super Express V8, Dual-power 3-speed transmission, 2.91:1 axle ratio
Edsel number 731326 manufactured in Louisville, KY on March 27, 1959
---
Information as of: July 2015

Owner: Richard Lindblad
Location: Southlake, Texas
Owned since: May 2008 Mileage: 102,440
Condition: Show car
Originality: Stock, with some updated parts Accessories included: Power Steering, Power Brakes, Dial-A-Temp Heater/Air Conditioning, Column Automatic Transmission, Radio, Rear Speaker, Whitewall Tires, Wheel Covers with Spinner, Two-tone Paint, Padded Sun Visors, Oil Filter, Extra Cooling Fan/Radiator, Hooded Side Mirrors, Tinted Glass, Dual Exhaust, Back-up Lights, License Plate Frames Notes:
July 2015:
Rpainted Redwood Metallic and Snow White, May 2015. Power Brake reinstalled. New front floors and rocker panels.

June 2014: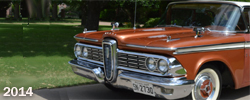 Power Steering and Power Brakes have been install from my parts car. Body work and finish paint continue.
Mileage: 101,272

January 2012: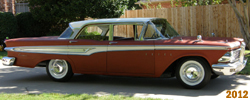 New interior and headliner using original fabrics. Engine needs to be overhauled and body work, glass and paint. Runs and drives very good with existing engine.

October 2011:
Original wheels and B.F. Goodrich Bias Ply Tires new truck mat and trunks boards.
August 2009:
The additional aftermarket cooling radiator has been removed and a new recored radiator has been installed. Car is being restored.
Mileage: 99,971.6
September 2008:
The car is now running, with some idling problems. I have put back most of the original parts and plumbing which was missing. All new brakes and wheel cylinders (from Auto Zone, '59 Galaxie).
The interior has cleaned up pretty well until I can get the new one installed.
---
---
©2015 Edsel.com All Rights Reserved