A9UT731280 <!- Second line -->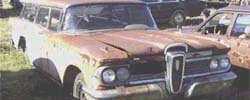 Dataplate specifications
Villager, 6-passenger wagon, Snow White
Blue vinyl/Gold cloth interior

223 Econo-Six, 3-speed manual transmission
Edsel number 731280 manufactured in Louisville, KY
---
Information as of: December 2001

Owner: unknown
Location: Strawberry Plains, Tennessee
Owned since: unknown Mileage: unknown
Condition: Parts car
Originality: N/A Accessories included: unknown Notes:
This is a one-owner car, I have the original title. Most of the glass is still good, and the rear hatch still opens. It has no motor or transmission. The brakes are frozen, the floor pans are pretty good, the dash is in good shape. All but the driver's side is rusted, and the interior is totalled. This car sat in a barn for over 20 years before I got it.
---
©2001 BE All Rights Reserved