W9UR731052 <!- 76E FF 44 26C 4 5 -->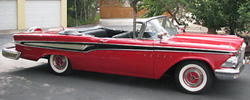 Dataplate specifications
Corsair, convertible, Snow White
Red/Black vinyl, white trim interior

361 Super Express V8, Dual-Power 3-speed transmission, 2.91:1 axle ratio
Edsel number 731052 manufactured in Louisville, KY on March 26, 1959
---
Information as of: July 2008

Owner: unknown (online auction car)
Location: Leander, Texas
Owned since: unknown Mileage: 58,020
Condition: Show car
Originality: New paint colors Accessories included: Radio, Rear Deck Antenna, Wheel Covers with Spinner, Padded Dash and Sun Visors, Dual Spotlights, Dual Exhaust, Continental Kit Notes:
This car has much cosmetic and mechanical restoration and lots of detailing. The seat covers, door panels and visors are original. Everything else is new or restored with correct Edsel parts and material. The paint is a two-stage polyurethane and is show quality. The front and rear bumpers have been re-plated and have a lifetime warranty from Superior Chrome in Houston Texas.

The 361 FE engine has been completely rebuilt and runs perfect. There are new brakes and new tires all around. There is a new aluminized exhaust installed with stock type mufflers, and many new items such a fuel tank, trunk mat, electric fuel pump, Pertronics ignition, rear shocks and many other new and restored parts. I have only put about 50 miles on the car since it was completed but it drives perfect and is nice and tight for a convertible. The underside of the car is not show detailed but fairly clean, only areas that show are detailed.

There are some very rare accessories on the car such as factory correct ribbed dual spotlights, not the smooth sided Ford type. It has color-keyed spinner hubcaps. There is the original factory continental kit that swings up and over, not an after-market kit. There is a rear deck antenna and new Edsel floor mats.

There are less than 50 of these 1959 Edsel Corsair convertibles left and this is one of the nicer ones. The only mechanical problems are that the radio is very weak, the clock works sometimes, and the transmission front seal leaks. The seal was replaced when the engine was out but for some reason leaks a little.
---
©2008 Edsel.com All Rights Reserved