B9UT730576 <!- 71F 3 1-->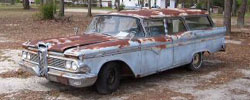 Dataplate specifications
Villager, 6-passenger wagon, Jet Stream Blue with Snow White


332 Express V8, Mile-o-matic 2-speed transmission, 3.10:1 axle ratio
Edsel number 730576 manufactured in Louisville, KY
---
Information as of: April 2004

Owner: unknown (online auction car)
Location: Wrens, Georgia
Owned since: unknown Mileage: 73,600
Condition: Salvageable
Originality: unknown Accessories included: unknown Notes:
This would make a good project or parts car, everything is there except for a strip of chrome that goes on the hood, and hubcaps. The car has rusted floor boards and front fenders. It runs good, but needs some brake work before it can be driven. It had the brakes redone with a lot of new parts in 1997, but it was setup again. The interior is in bad shape.
---
©2004 Edsel.com All Rights Reserved