C9UF730267 <!- Second line -->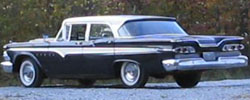 Dataplate specifications
Ranger, 4-door sedan, Jet Black with Snow White
Black vinyl and cloth interior

292 Ranger V8, automatic transmission
Edsel number 730267 manufactured in Louisville, KY
---
Information as of: November 2003

Owner: unknown (online auction car)
Location: Brooks, Kentucky
Owned since: 1993 Mileage: 68,112
Condition: Not Running but salvageable
Originality: unknown Accessories included: Radio, Hooded (Passenger-side) Mirror Notes:
I bought this car 10 years ago from my next door neighbors after they started a fire in the engine compartment by pouring gas into the carburator to try and start it. I've never tried to fix it although the damage doesn't look too bad. Plug wires, fuel lines and wiring harness are melted. Distributer is fine. Wiring harness is not melted all the way through and may still be usable. Body is in pretty good shape with the normal rust in the rocker panels and floorboards. Much of the chrome is also pitted. A couple of the door latches don't work and the drivers door is missing the glass. There's a small dent in the rear drivers side door that's not very noticable. The seat upholstery is in rough shape but the door panels are in good shape. Dash looks almost perfect and it has an AM radio. This would be a good project or parts car for someone who knows about restoration.
---
©2003 BE All Rights Reserved