B9UV729111 <!- 71E EF 31 11C 1 3 -->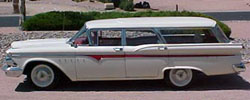 Dataplate specifications
Villager, 9-passenger wagon, Snow White with President Red
Red vinyl/gold cloth interior

332 Express V8, 3-speed manual transmission, 3.70:1 axle ratio
Edsel number 729111 manufactured in Louisville, KY on March 11, 1959
---
Information as of: April 2003

Owner: unknown (online auction car)
Location: Scottsdale, Arizona
Owned since: unknown Mileage: 92,000
Condition: Show car
Originality: Semi-stock (Non-Edsel gages, rims, new motor) Accessories included: Radio, Rear Speakers, Whitewall Tires, Wheel Covers with Spinner, Tinted Glass, Dual Exhaust, Back-up Lights, Roof Rack (not installed) Notes:
Presently set up as a California Beach Cruiser. Has a relatively new set of polished American Mags. The car was professionally repainted a couple of years ago in its original white finish. The car is extremely straight, no body damage etc. All the stainless, bumpers etc are in show condition. The back bumper and trim piece have just been rechromed.

The interior is original and is just breath-taking. The seating area is covered in the nostalgic plastic for protection. All three seats are just magnificent. The original red salt and pepper type of floor mat material is still all intact and beautiful. The cargo area has been freshened up, and looks great, you can open it for show. The dash area with all its chrome is about the best you will find. The steering wheel is beautiful. It has a new set of show gauges installed (oil pressure, temp, volts), and a new tachometer. Also has a new custom sound radio system with 2 speakers. Also, it has the original Kleenex dispenser under the dash.

All the glass is the original Ford Script glass. I just had the car Limo Tinted for sun protection and good looks. The engine compartment has been completely detailed for show, it is really nice. The undercarriage is very solid, cleaned and painted chassis black. It has a repalcement remanufactured engine with about 100 miles. All the attached parts have all been rebuilt, radiator, generator, water pump, carb, etc. When you first start the car it does make a little lifter noise, which is quite typical of Ford engines of this era. After the engine was rebuilt it sat quite a while before it was run, so one of the lifters need to pump up. It goes away as it is driven more. The brakes were just all redone. It has a new dual exhaust system with glass pack mufflers. It is now powered by the 361 cubic inch "Super Express" Engine with the 3-speed manual transmission. Standard steering and brakes.
---
©2003 BE All Rights Reserved