C9UF729087 <!- Second line -->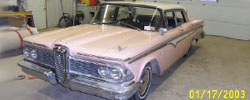 Dataplate specifications
Ranger, 4-door sedan, Talisman Red (Pink) with Snow White
Silver vinyl/black cloth interior

292 Ranger V8, Mile-o-matic 2-speed transmission
Edsel number 729087 manufactured in Louisville, KY
---
Information as of: March 2004

Owner: Marcel Pepping
Location: Stratford, Ontario, Canada
Owned since: January, 2003 Mileage: 108,071
Condition: Fully restored
Originality: Updated brake system Accessories included: Radio Notes:
Everything on the car is original except a dual master cylinder has been added for safety reasons. The original working master cylinder will remain with the car. The car no longer has the fender skirts since they weren't original.
---
Information as of: May 2002

Owner: (online auction)
Location: Listowel, Ontario, Canada
Owned: unknown Mileage: unknown
Condition: Excellent driver
Originality: unknown Accessories included: Radio, Aftermarket Chrome Fender Skirts Notes:
Originally a New York car.
---
Information as of: 1959

Owner: Ken Witt
Location: Batavia, New York
Owned: New Mileage: 0
Condition: New
Originality: Factory original Accessories included: Radio Notes:

---
---
©2004 Edsel.com All Rights Reserved