B9UT728944 <!- 71F FE1 31 10C 3 1 -->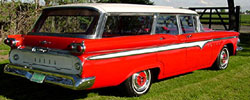 Dataplate specifications
Villager, 6-passenger wagon, President Red with Snow White
Blue vinyl/Gold cloth interior

332 Express V8, Mile-o-matic 2-speed transmission, 3.10:1 axle ratio
Edsel number 728944 manufactured in Louisville, KY on March 10, 1959
---
Information as of: May 2003

Owner: unknown (online auction car)
Location: Boise, Idaho
Owned since: unknown Mileage: unknown
Condition: Drives well, needs minor restoration
Originality: Stock, with some updated engine parts Accessories included: Original Wheel Covers, Remote Side Mirror, Original AM Radio (inoperable) Notes:
This car was restored from the frame up nine years ago. Unfortunately once getting everything done but the kick panels and the engine compartment, the owner passed away. The car has been rotating in and out of the garage ever since, spending the last several years outside. The wagon was recently resurrected and after removing the gas tank, putting on a new Holley carb, changing the oil and filter, fuel pump, fuel filter and getting a tune-up, it fired up and runs well. There is lifter noise under both valve covers, most likely due to the car sitting for so long. The interior is in good shape with rip-free seats, newer carpet and newer door panels. The headliner was also new nine years ago but it has two panels now which are warped from the outdoor storage. I would recommend new weather-stripping as it is aged. The finish on the vehicle is in good shape but the Red on the hood and high fin flats is faded and should be buffed out to match. The vehicle has no rust, and the floors are very solid from underneath. The car does have a few paint chips along with the fade.
---
©2003 BE All Rights Reserved