W9US728383 <!- 58B EF1 51 05C 4 5 -->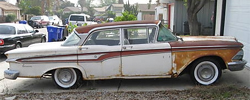 Dataplate specifications
Corsair, 4-door sedan, Snow White with President Red
Black vinyl and cloth interior

361 Super Express V8, Dual-Power 3-speed transmission, 2.91:1 axle ratio
Edsel number 728383 manufactured in Louisville, KY on March 5, 1959
---
Information as of: January 2010

Owner: unknown (online auction car)
Location: San Diego, California
Owned since: 2007 Mileage: 89,500
Condition: Not Running but salvageable
Originality: Non-Edsel upholstery Accessories included: Radio, Whitewall Tires, Wheel Covers, Two-tone Paint Notes:
She was purchased almost three years ago, driving for pleasure on weekends only. Due to my busy schedule, I do not have time to do any kind of work on her.

The entire body is her own original. There is rusting all around it. There are no dents, dings or any other damages on the frame. She requires body work. The engine used to run OK. Since it has been sitting in the parking lot, minor engine work might be required. I was told by the prior owner that the upholstery is not the original. But there is no wear or tear anywhere around.

The instrument panel is original as well. All electrical controllers used to work. As the car was not used, there might be some components that need to be replaced. I purchased this vehicle from a private seller in Southern California, and I do have a clear title.
---
©2010 Edsel.com All Rights Reserved