C9UF728212 <!- Second line -->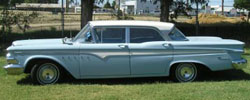 Dataplate specifications
Ranger, 4-door sedan, Jet Stream Blue with Snow White
Blue vinyl/blue cloth interior

292 Ranger V8, automatic transmission
Edsel number 728212 manufactured in Louisville, KY
---
Information as of: June 2007

Owner: unknown (online auction car)
Location: Delta, California
Owned since: 1987 Mileage: 39,032
Condition: Drives well, needs minor repairs only
Originality: New paint Accessories included: Radio, Wheel Covers Notes:
This car was repainted in 1987 and looks today as if it were just painted. It has always been garaged since we've owned it.

Engine was rebuilt in 1993. We only used it for car club activities, so there has been only 1,995 miles put on since the rebuild. The back bumper was rechromed at the time the car was painted, and the seats were re-upholstered in 1993. The door panels are original and are in great shape.

The left rear brake cylinder leaks, the car needs a new dome lens to replace the cracked one it has, and there is a little too much play in the steering, in my opinion. The visors should be redone. The trunk lock doesn't work quite right, as you have to turn it a couple of times before it opens.
Comes equipped with a working CB radio, and a musical horn that plays many songs. The radio works, but the clock does not.
---
©2007 Edsel.com All Rights Reserved