W9US727518 <!- Second line -->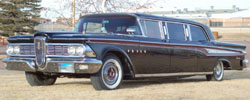 Dataplate specifications
Corsair, 4-door sedan


361 Super Express V8, automatic transmission
Edsel number 727518 manufactured in Louisville, KY
---
Information as of: July 2006

Owner: unknown (online auction car)
Location: Mountain View, Wyoming
Owned since: unknown Mileage: 47,919
Condition: Show car
Originality: Customized Limousine Accessories included: Air Conditioner, Overdrive Transmission, Radio, Rear Deck Antenna, Whitewall Tires, Wheel Covers with Spinner, Tinted Glass, Two-tone Paint, Rocker Panel Mouldings, Dual Exhaust, Television, Cassette Player Notes:
This Edsel is a ONE OF A KIND! This limo was a dream of my son-in-law, and as luck would have it, my son had a 1959 4 door sedan that he had purchased in Lost Hills Calfornia, so we rolled up our sleeves and started on the limo in about 1994 and had it finished within the year after many 12-14 hour days. All of the parts used in this limo are original or handmade from original Edsel parts. There were a total of three Edsels used in making this limo - a 2-door sedan, station wagon and a 4-door sedan, all 1959 models.

This limo has a 1959 361 cubic inch Edael V8 completely rebuilt from the ground up along with a rebuilt Fordamatic 3-speed overdrive automatic transmission. Taking this vehicle to car shows, driving it around town, for parades, proms, weddings, and fun a total of around 15,000 miles has been put on it by the owner after restortation. This car has been placed in many car shows around the country, and in each show it has been entered in, the car has taken TOP HONORS. These include 1st place in all but the one show, and it took top craftsman in that show.

To make this limo, the 1959 4 dr sedan had to be lengthen by a total of 4 feet, bringing the total length to around 21 feet. The owner installed disk brakes on the front axle from a 1984 LTD II. Interior is burgundy and black. The seats are maroon with black trim, and the interior has a black and white TV to go along with the year of the car. All of the wood in the interior of the vehicle is white oak. (Console and cooler in center, and overhead radio system panel.) The front seat is a bench seat, the rear seats consist of 2 bucket seats, one on each side of the console, and a bench seat. The passenger capacity in the rear is 5 people. There is an electric privacy window between the drivers compart and rear of the limo, and there is also a telephone from the front drivers compartment to the rear passenger compartment for communication.

The limo has front and rear air conditioning, with seperate controls. The rear compartment has courtesy lighting, with privacy glass all around. Vehicle is carpeted throughtout including the trunk. All door panels match outside design. The outside of the vehicle has been painted with high quality German paint, consisting of a black base with 3 clear coats. It has a black vinyl roof, and the back window has been reframed with metal then cut out to the desired size, in the true limo tradition. All trim is original Edsel trim, rocker trim is manufactured. There is a traditional limo TV antanne on the trunk, and all lettering accessories on outside are plated 14k gold.
---
©2006 Edsel.com All Rights Reserved