B9UW727442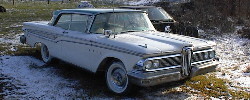 Dataplate specifications
Corsair, 2-door hardtop, Jadeglint Green Metallic with Snow White
Green vinyl and cloth interior

332 Express V8, Mile-o-matic 2-speed transmission, 2.91:1 axle ratio
Edsel number 727442 manufactured in Louisville, KY on February 26, 1959
---
Information as of: December 2000

Owner: Bernie W. Sams
Location: Winchester, Kentucky
Owned since: December 2000 Mileage: 85,000
Condition: Drives, shift linkage problems
Originality: Factory original, except for paint Accessories included: Column Automatic Transmission, Power Steering, Clock, Radio, Wheel covers Notes:
It's for sale. $3000.00 or make offer. I need to sell it - too many toys and no place to store or restore. She needs a good home.

This is a complete car that starts and runs. Everything is there from front to back, except for the interior door panels and the side panels in the rear. It's been parked in a garage for the last eight years or so, but appears in pretty good shape. I bought the car from an estate auction, and don't know much about it.

The brakes will stop the car, but it has a hard pedal feel, and the left front wheel bearings are bad. The body appears very solid, the floor boards are good and the trunk floor has very little rust. There's no carpet on the floors, the driver window glass is cracked and will need replacing, but rolls up and down easily, and the passenger side wing window glass is broken and will need replacing (looks like a BB shot). The headliner is in good shape and the dash is excellent. This is a very good car to restore.
---
©2000 BE All Rights Reserved