B9UR727284 <!- Second line -->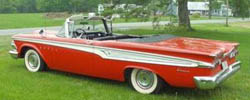 Dataplate specifications
Corsair, convertible, President Red with Snow White
Red/Black vinyl, white trim interior

332 Express V8, automatic transmission
Edsel number 727284 manufactured in Louisville, KY
---
Information as of: December 2003

Owner: Stephen Wagner
Location: Columbus, Ohio
Owned since: June 2002 Mileage: 78,000
Condition: Show Car
Originality: Factory Original Accessories included: Wheel Covers Notes:
Car totally restored, new paint, new chrome, new top, new tires, detailed engine, replaced brakes, total restoration. Car is now in excellent condition.
---
Information as of: June 2002

Owner: unknown (online auction car)
Location: Moscow, Maine
Owned: 1959 - June 2002 Mileage: 77,889
Condition: Excellent
Originality: unknown Accessories included: Wheel Covers Notes:
The vehicle was repainted and re-chromed several years ago and still looks great. The body is solid and the transmission has been rebuilt. It has always been garaged. The following parts were replaced: canvas top, dash, portions of the seat covering and the carpet. This car has been in my family since my grandfather purchased it new from the dealer in 1959.

There are a couple of dime sized dents on the rear bumper. There are three exterior spots with bubbled paint - passenger side, bottom edge of the panel. The brake pedal itself doesn't come all the way back up after epressing. It doesn't affect the brakes at all but it does leave the brake lights on. I use a small spring to keep this from happening.
---
©2003 BE All Rights Reserved