W9UG726840 <!- Second line -->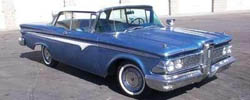 Dataplate specifications
Ranger, 2-door hardtop, Moonrise Gray
Silver vinyl/black cloth interior

361 Super Express V8, automatic transmission
Edsel number 726840 manufactured in Louisville, KY
---
Information as of: June 2002

Owner: Peter Herheim
Location: Salt lake City, Utah
Owned since: unknown Mileage: 116,000
Condition: Drives very well, needs cosmetics only
Originality: Stock, with new paint and interior Accessories included: Wheel Covers, Spotlight, Radio, Aftermarket Air Conditioner Notes: (From June 2002 eBay auction)
This car is in rare condition; it was rebuilt around 1990 and in '91 won a first place trophy at an exotic car show. Originally the car was grey with silver/black interior; it was re-painted blue/white, with blue/white interior that is still like new. You won't drive this car without turning some heads; the 361/V8 engine is still as powerful and as smooth as ever! An aftermarket air conditioner was added in the 70's, and a new carburator has been installed. This car really is incredible, for the majority of it's life it has been owned by the son of the Edsel dealer and has always been kept in top running condition.

The transmission have been leaking some fluid but has been running good all the time. There is some rust by the rear wheel on one side, about 4 inches in diameter; the paint is beginning to wear-out but it will still last for some time. A chip is visible behind the rearview mirror (1 inch round). It looks like a previous mirror was removed; but it has been there for many years so it`s nothing to worry about. There is also a very small chip on the left bottom side of the windshild; it's about an eight of an inch long. The odometer states 160,000 miles but according to the previous owner it flipped incorrectly and the miles should be 116,000 miles; the engine speaks for itself and is in incredible condition.
---
©2002 BE All Rights Reserved