W9UG726640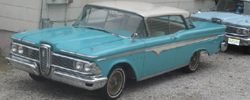 Dataplate specifications
Ranger, 2-door hardtop, Dark Aqua with Snow White
Buff vinyl/gold cloth

361 Super Express V8, Dual-power 3-speed transmission, 2.91:1 axle ratio
Edsel number 726640 manufactured in Louisville, KY on February 18, 1959
---
Information as of: August 2010

Owner: Eddie Trotto
Location: Mays Landing, New Jersey
Owned since: February 2010 Mileage: 53,211
Condition: In restoration
Originality: All parts are factory authentic Accessories included: Lever-Temp Heater/Defroster, Column Automatic Transmission, Standard Radio, Rear Speaker, Power Steering, Whitewall Tires, Wheel Covers, Two-tone Paint, Rocker Panel Mouldings, Windshield Washer, Padded Sun Visors, Oil Filter, Oval Side Mirror, Courtesy Lights, Back-up Lights, Luggage Compartment Light Notes:
This car was completely dissasembled when I got it. Most parts were in small boxes and labeled. Engine was out and apart. The past owner spent thousands on new, NOS and repro and rechroming on this car. As of today (Aug 30th) this car is ready to be tagged up and driven.
---
Information as of: June 2009

Owner: Mark A. Spatz
Location: Egg Harbor Township, New Jersey
Owned: July 2005 - February 2010 Mileage: 53,000
Condition: In restoration
Originality: All parts are factory authentic Accessories included: Column Automatic Transmission, Standard Radio, Rear Speaker, Power Steering, Whitewall Tires, Wheel Covers, Two-tone Paint, Rocker Panel Mouldings, Padded Sun Visors, Oil Filter, Hooded Side Mirror Notes:
Car appears to be a 53,000 mile original car. It has original heater hoses, water pump by-pass hose, etc. Was shown in Ohio in late 80s early 90's and came with dash plaques etc. Exterior is aqua and white, repainted sometime in early 80's, interior is a strange combination of white tan and almost a mustard color, but appears to be original.

The engine is out of the car and the front clip is off. The heads have been rebuilt with new valves, new springs, etc. The engine is tight; the chain looks good and the cylinders have no ridges at the top. The exhaust manifolds have been blasted and coated. The carburetor is rebuilt. The generator has been rebuilt, the radiator recored. The heater core was repaired and reinstalled. Rechromed front and rear bumpers, rechromed rear trim "Ys", trunk nameplate and center ring of the grille. I have new front turn signal lenses and housings (repro). New rugs, trunk mat, trunk boards, recovered seats. The car is missing the headliner.

1977-79 Thunderbird aluminum wheels with new tires; original wheels included. New NOS Y pipe. Repro fender ornaments. All rust issues on this car have been professionally addressed, except it needs new rocker panels. The frame is 100% solid.

<!- P HR P --> <!- A HREF= http: www.vector11.com/edselcom/gallery/e59/e59726640.jpg Gallery Link /A --> <!- P HR P -->
---
©2010 Edsel.com All Rights Reserved