C9UF726496 <!- 58D CC 23 17B 3 1 -->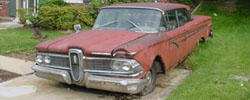 Dataplate specifications
Ranger, 4-door sedan, Gold Metallic
Green vinyl/green cloth interior

292 Ranger V8, Mile-o-matic 2-speed transmission, 3.10:1 axle ratio
Edsel number 726496 manufactured in Louisville, KY on February 17, 1959
---
Information as of: May 2003

Owner: Neil G. Lyon
Location: Alexandria, Virginia
Owned since: January 1991 Mileage: 57,085
Condition: Not Running but salvageable
Originality: unknown Accessories included: Hub caps Notes:
This car has a ton of rust and doesn't drive. If you want to put a TON of love and care into a car, this one is for you. All glass is intact, and we have the original keys and title.

It was painted with some kind of reddish primer to stop rust.
---
©2003 BE All Rights Reserved